Gearing up for the start of your 

trade show

 season could mean purchasing a new trade show display. Lucky for you our most popular special is happening now! Take advantage of the savings today!
Trade show attendees are constantly bombarded with information overload  at shows. And fighting for the attention of all senses – sight, sound, smell, taste and touch – might seem like a daunting task.  So what can you do as an exhibitor to make sure your display stands out in the crowd?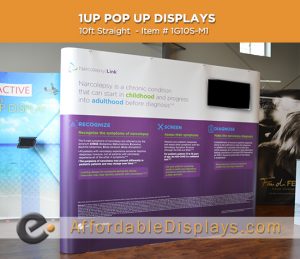 In this day and age people want information now and without having to to do much to get it. By simply adding motion to your pop up display with a TV monitor or iPad tablet, you're providing trade show attendees with an easy way to engage with and learn about your brand or products without having to ask.
Luckily, technology offers us new ways to engage trade show visitors. Flat screen monitors and tablets not only compliment your booth but they offer a great way to stand out from the crowd, get the attention of passersby and communicate your marketing message in seconds.
Motion graphics presentations play continuously on a loop throughout the duration of your event. Motion graphics don't have to be a huge undertaking; they can be created using stock photos, commissioned photography, rendered art, text and video. They can be strictly visual or include music and sounds.
And as a bonus, you'll get a lot of mileage out of these graphics. A single investment in a motion graphic presentation can be used to promote your company before, during and after your trade shows. For a pre-show promotion, put it on social media, your website and include it in your email broadcasts.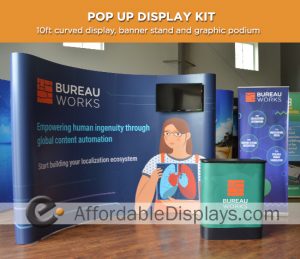 At the event, create an inviting atmosphere with stools or couches that makes buyers feel comfortable entering or even relaxing in your space. Position monitors to play out to the aisles as a way to draw attendees into your space and you can also place motion graphics within your space. A warm, even soothing, environment can extend and enhance your engagement with visitors.
Another way to put your graphics to use after the event is during face-to-face sales meetings. Graphics can be played on demand on a tablet or smart phone to really put your best foot forward.