Built since 1999, our premium brand 1UP Pop up displays have been exclusively produced by Affordable Exhibit Displays, Inc. With it's classic curve appeal this trade show display series combines big strength and reliability in a compact size. Our complete line of portable display packages have everything you need to start promoting your business and brand.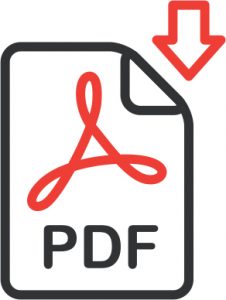 First, choose your size: table top or full height – 4ft up to 20ft. Then choose your panels: Premier® brand Velcro Receptive Fabric Panels or Photo Quality full color custom printed graphic panels. Your panels will automatically click to the strong and sturdy aluminum frame using its's magnetic channel bars. And your entire pop up display packs down into a convenient rolling travel bag or compact shipping cases. With your choice of configurations from table top to 20ft units, and beyond, we have the set up to fit your needs.
Plus, all pop up displays effortlessly set up in under 30 minutes or less with no tools required.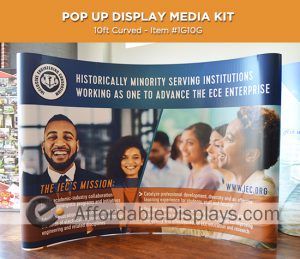 The 1UP pop up displays combine strength and reliability, with style and ease of use. This style trade show display is named "pop up" due to the frame's infamous popping-up action. It is one of the most portable tradeshow display solutions available. We guarantee if you've ever been to a trade show before you have surely seen a pop up display.
The 1UP system features several unique advantages over other similar pop up display systems. The most notable feature is the fact that it's a USA Made Product – made in Maine actually – and all fabrication plus graphic printing is completed in-house also at our Maine facility. The brilliant 8 color printing process will make your full color photo quality printed graphics stand out from the rest. Another great feature is the framing and magnetic bar system include a full Lifetime Warranty. Best of all, the frame has a 'convertible' feature allowing you to add on or subtract to form a larger or smaller backwall.
Eye Catching Full Height Floor Models Perfect to show off your brand at any trade show or marketing event
Quite possibly the MOST POPULAR is our 1UP full height floor model pop-up displays. With models ranging in size from 4ft wide to 20ft wide, curved frame or straight frame, gullwing or serpentine frame, there is a style for you. Choose from velcro receptive fabric panels or our high quality custom printed graphic panels. Included with your pop-up displays is our indestructible roto-molded shipping case w wheels. Other accessories also available are velcro mount headers, backlit headers, stem lighting and much more.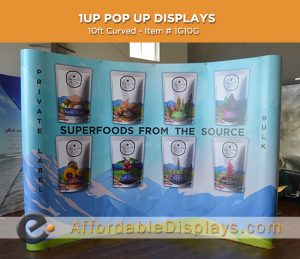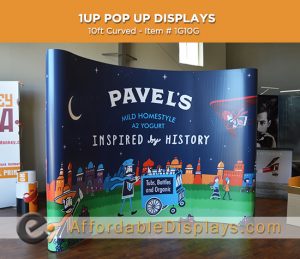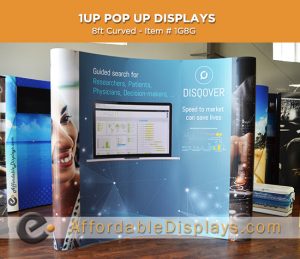 Attention grabbing Interactive Models make them stop and stare
It's all amount MOTION! Attendees will have no choice but to notice your booth when you have our Interactive 1UP pop up displays. With accessories such as monitor mounts, iPad/tablet mounts and counter top inserts, your booth space will be the talk of the show. Play a slideshow or product presentation, have attendees interact with your website, sign up for specials or your newsletter or simply try out a new app. Interactive displays are the way of the future!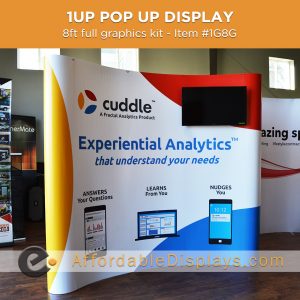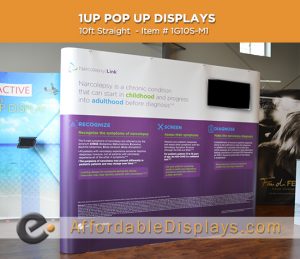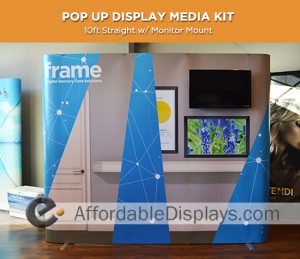 Monitor, iPad, tablet mounts draw in attendees for the ultimate trade show experience
Create an interactive approach with your booth space using our 1UP monitor brackets, iPad or Samsung tablet holders. Your interactive technology will sure draw attention to your booth. And, that is what exhibiting is all about. ATTENTION!
Bundle & Save! All-inclusive package for the travelling exhibitor
Our 1UP Pop Up Display & Banner Stand Trade Show Backwall Bundle is the perfect combination of functionality and portability, enhancing your trade show experience. By simply adding a custom printed retractable banner stand to your pop up display, you'll not only create depth in your booth space but you'll also have additional "real estate" to promote your brand or products. Don't forget: you can also utilize the banner stand in your office entrance when the shows over too – it's double duty for your marketing efforts!
All included items pack into two square shipping cases that convert to a useable graphic podium to further enforce your brand's message.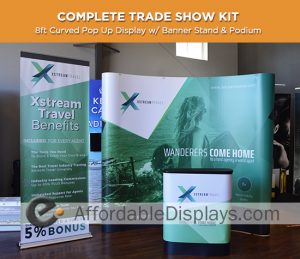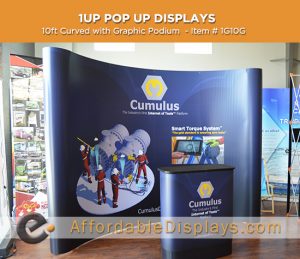 ———————————————————–
Our company is a family owned and operated company and as such, we have deep-seated family values and we focus on quality and on offering our clients a top choice of eye-catching and appealing tradeshow exhibits and displays. If you are interested in purchasing a portable pop up trade show display for your next trade show or event, contact us here!
Don't forget to LIKE US on Facebook to see more of our portable displays and banner stand options!