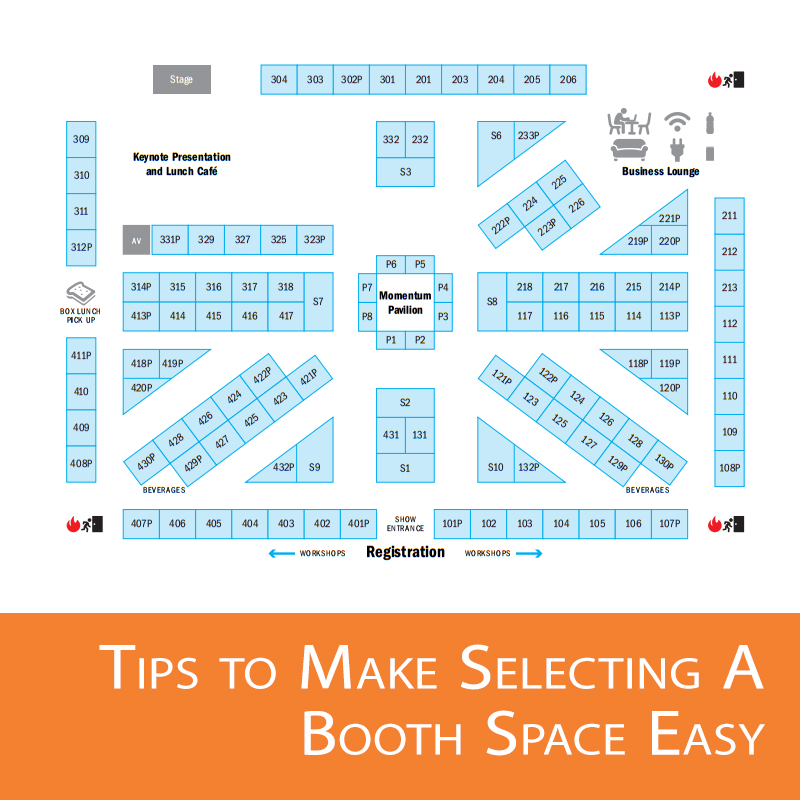 Being your company's trade show or event manager can bring some challenging decisions to your desk.  It's tough to make the right decisions at times – even when you've researched trade show advice – especially when it's your company's first trade show or your own first trade show.  If you've decided a trade show is the route to take your company then selecting the best shows for your industry is key and finding trade shows to attend can be a challenge all on its own.  Assuming you've done the homework and selected shows worth attending the next show decision is what booth space should you choose within the floor plan.  
Step 1
Get to know the show.  Look at all show information including previous years demographics, previous show exhibitors, and potentially your competitors booth spaces within the show floor plan.  Where are they typically located?  Do you want to be near a competitor or far, far away?
Step 2
Define your show goals.  What size space is required?  Is there more than 1 type of booth space to choose from?  Will a single booth space be enough or is a double the way to go?  Do you have a trade show booth to fill the space already?  If you do, does it fit?  If not, and a new trade show display is required then that is a whole separate research task to read on tips to selecting the best trade show display style for your brand.
Step 3
How many booth staffers will be needed?  This is important to selecting the show floor space.  For instance, if 2 out of the 4 ideal booth spaces are considered island spaces then all 4 sides are open.  This means that 2 booth staffers just might not cover the space, you may need to consider 4.  Is 4 booth staffers within the trade show budget?
Step 4
Show floor traffic.  Ideally, it is best that you have physically already visiting the show and observed the traffic flow for yourself.  Of course, this may not always be the case especially since it may be your first show attending.  Time to call the show promoter and ask if they have any previous specs on traffic flow.  A lot of event promoters keep track of detailed information such as flow.  You may also know and exhibitor personally  that has attended and ask what they've experienced previously.  Keep in mind, traffic tends to flow in through the center then to the right.  You may notice that you may see traffic get clogged at the larger or more unique exhibit spaces.  Or are there typical exhibitor spaces that have previously always had a consistently busy booth flow?
Step 5
Location, Location, Location.  By this time you should be pretty prepared to access the floor plan.  It's best to identify 3-4 trade show floor spaces that will allow you to be within the best position taking into consideration Steps 1-4.  Will you stand out enough?  Are you in a prime traffic area?  Is the traffic entering or exiting the show floor?  
Location is pretty key to ensuring you'll be expecting the kind of traffic flow your booth space is going to want and need.  In the end, every show is slightly different year after year but if you give yourself a good knowledgeable head start you'll thank yourself when the show is all said and done.