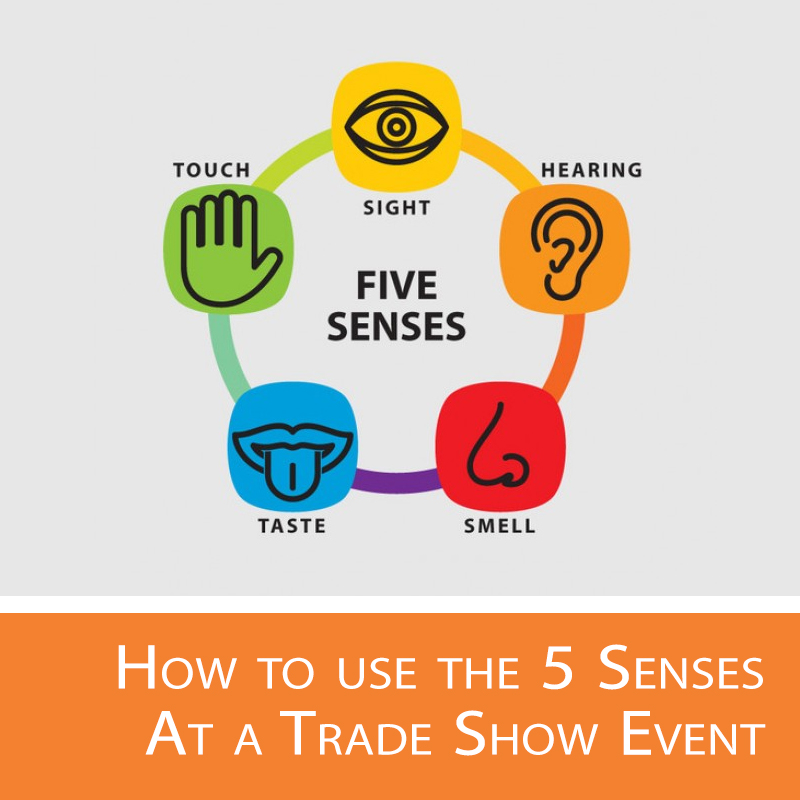 A trade show is full of sensory overload.  And being a company that sells trade show displays we'd typically blog about well… trade show displays. But this post focuses upon a whole different take on a trade show.  Meet your 5 senses: sight, sound, touch, smell, and taste.  It's called sensory branding.  According to Wikipedia "Sensory branding is a type of marketing that appeals to all the senses in relation to the brand. It uses the senses to relate with customers on an emotional level. Brands can forge emotional associations in the customers' minds by appealing to their senses."  
It's pretty easy to say that sight would be the most important at a trade show but the other 4 senses contribute considerably to the overall value of attending or exhibiting at a trade show.   The ultimate secret to creating an experience around your trade show display is to integrate the full 5 senses, not just one or two.  Here's how you can do just that.
Sight:

Let's start with the most obvious of the senses.  As you would expect sight is the most important at a trade show.  The many

colors

, the lights, the people, the interactions, the constant need to read each booth as you pass by, products galore to look at, competitors, hundreds of individuals weaving in and out of traffic flow, and then commotion within your own booth space.  That's a lot to take in – even for the most seasoned exhibitor.  That's why it's important to ensure your own booth space is clean, clear and concise with its message.  With so many other distractions it's important to ensure your booth space focuses on directing and controlling where the potential customer is looking and for how long.  Oh and of course that your message and brand is understood immediately.

Sound:

A trade show floor is bustling with noises.  The overhead speaker, the hundreds of conversations being crossed over one another, booth spaces with videos, live presentations, and so on.  To get past all of that noise why not try and create an environment within your booth space that is inviting enough that attendees will want to stop and maybe even take a break from all of the commotion.  Couches, chairs or a quiet meeting area just might be the ticket.

Touch:

Think about the last time you went to your local department store.  What sense did you use the most while you were there?  Touch.  You touched anything that caught your eye, anything that interested you, anything that sparked you to want, need and then ultimately buy.  Think about it: before you bought it; you touched it.  How does this relate to a trade show?  Simply remember to put your best foot forward and give customers the ability to touch, feel, and try out whatever it is you're looking to sell.  And, if you don't have a tangible product that you are selling then make sure you have enticing giveaways.  The giveaways can reel in potential customers in the same way an actual physical product can.

Smell:

Believe it or not, the smell is considered to be a fast track to the part of your brain that controls both emotion and memory, two very prominent factors behind why we choose one brand over another.  If you can create your own smell within your booth space then do it.  You may think well I don't sell candles or fragrances.  That's okay.  What you can do instead is make sure you at least smell nice.  Sounds funny but who doesn't sweat like crazy at a trade show.  So keep deodorant, hand lotion or even your favorite perfume handy. You also need to be enticing just as much as your product and booth space is.

Taste:

This, of course, is the most important sense when you sell an edible product.  For example, let's say you sell a Gluten free, Dairy free and Soy free cookie snack.  I know what you're thinking. YUM!  Just having a trade show backwall describing your special yummy cookie isn't going to get you more business that's for sure.  Your product is free of a lot of components that are in most food today so to actually sell it your potential buyer they must taste it.  Looking at a pretty backdrop or packaging isn't going to sell your cookie; it's about actually tasting it.  Always, always have samples on hand.  That's the magic touch to your booth space so make sure you have enough samples on hand to entice passersby to stop and want to taste but most importantly know your product exists and then to buy your product.  
At the end of the day if you can't hit all of the 5 senses within your booth space it's okay.  Just be aware of how they all do affect overall trade show floor experience.  Try to do what you can to keep the 5 senses in mind and focus on the ones that will best propel your brand and brand experience with your potential customers.