Interested in purchasing a pop up display today? This classic style display has been popular in the trade show industry for more than two decades.
And, here at AffordableDisplays.com, we've been building and exclusively producing our premium brand, the 1UP, since 1999 right here at our Maine production facility. The 1UP pop up display series combines big strength reliability all in a compact size ready to withstand even the most rigorous trade show schedules!
When creating the design for the 1UP brand pop up display the first thing we considered was the construction of the frame. We knew we wanted it to be virtually indestructible to insure an extremely reliable product for our customers. Check out our Pop Up Display Frame Comparison to visually see the difference in our frame up against our competitors.

Being in control of the manufacturing process allows our company to use only the highest quality components, such as fabric panels backed with Polycarbonate, which means the panels are unaffected by high heat and will not deform – like in the trunk of a car or warehouse.  The pop-up frame is constructed with 1/2″ square aluminum tubing for the ultimate in strength and stability, providing a lifetime of usage. The quality continues right down to even our shipping cases. Our shipping cases are unique and rotationally molded only for AffordableDisplays.com. These cases offer heavy duty built-in rubber wheels as well as a lid that is fastened with cotter pins for easy access. No worrying about broken wheels or lost lids with these cases. Extras like these only begin to tell you how quality of our 1UP pop up is unequaled.
Our complete line of pop up display packages have everything you need to start promoting your brand right out of the box.
You can start by choosing the size to best fit the booth spaces you rent. With your choice of configurations from 4ft wide to 20ft wide, and beyond, we have a pop up display that fits style and budget. Available in curved and straight models with round or flat end caps. We even offer 4 table top models 4ft 5ft 6ft and 8ft widths for the smaller venues and uses.

There are 2 types of panel styles to choose from for all 1UP display sizes.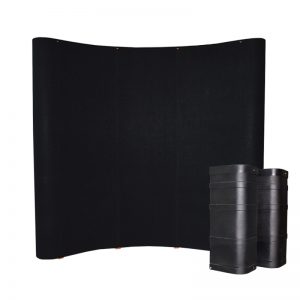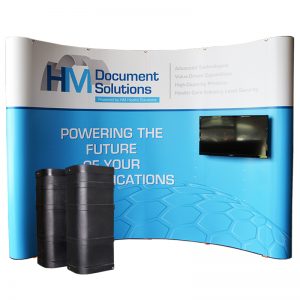 A fabric panel pop-up display is an inexpensive convention booth backdrop option allowing you to easily change and update your Velcro ready graphics depending upon each show or audience you present in front of. Made with recycled fabric and recyclable components.
The second option and most popular choice is our Photo Quality full color custom printed graphic panels. Either submit your graphic files for printing or get in touch with our graphic design team to create the artwork for you. And with our high standards you'll feel confident knowing we inspect all graphics, starting right when we receive your file, during production and right before they are sent out, making certain that our clients only receive the best quality printed product.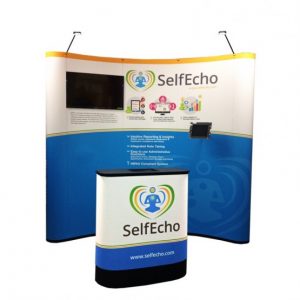 The list is endless – overhead lighting, backlighting, custom printed headers, shelving, bubble panels, podium kits, and more. Plus, you can get interactive with the 1UP pop up display by adding a monitor to play a slide show or video or the use of an iPad to gather attendee's information.
And, set up is simple with the no tool setup philosophy. Remove all items from the dual shipping cases, erect your frame and snap together the magnetic locking bars. Next, your panels will automatically click to the strong and sturdy aluminum framing using its magnetic channel bars.
Purchase with confidence knowing you'll receive our "No Questions Asked" Lifetime Warranty with your 1UP Pop Up Display purchase.
Your 1UP frame components (frame & magnetic channel bars) will be repaired or replaced no matter the situation or how many times you need to. That's how strongly we believe our frame will stand up to the test of time, no matter how rigorous your trade show schedule is. We've been manufacturing our 1UP since 1999 and can confidently say there is a less than 1% chance you will need to repair any components on your 1UP frame. We guarantee it!
Now's the time to stand out at your next trade show. So what are you waiting for? Start shopping online right now!