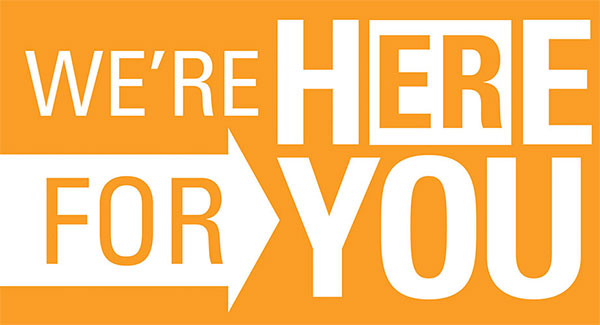 We are OPEN and here for you and all of your display and signage needs. We are committed to keep up with helping you ensure the public informed. And, here, we are working remotely plus our production staff has been limited to no more than 4 allowing for better social distancing. All of our vendor partners are also going to great lengths to follow the CDC guidelines. We've got some new products to help!!
We realize COVID-19 may or may not have affected your businesses normal everyday operations. If you are one of the many out there who have had to switch to teleconferencing and video chatting then we have backdrop and signage solutions to keep your brand front and center. That's why we would like to remind you we have many display products that can meet your backdrop needs. Check them out! You too can continue your brand even at home!

As the United States as a whole is trying to overcome this challenge we would like to encourage you to take this time to maybe tackle some of the tasks that fall behind due to day to day responsibilities. It's a great time to research new trade shows and conferences or start preparing for a Fall time show. Check out our online Trade Show Finder tool. It's a resource that you just may depend on.

If your business is able to still be open, we now have access to Hand Sanitizer stands and displays plus many different signage options letting the public know YOU ARE OPEN. Offering printed vinyl banners in any size you need, sidewalk signs, plus in-ground stake signs you can place anywhere.

As always, we're committed to being responsive to your needs. With 24/7 access to our website, you have a safe, secure and convenient way to:
View all our trade show products online
Search for upcoming trade shows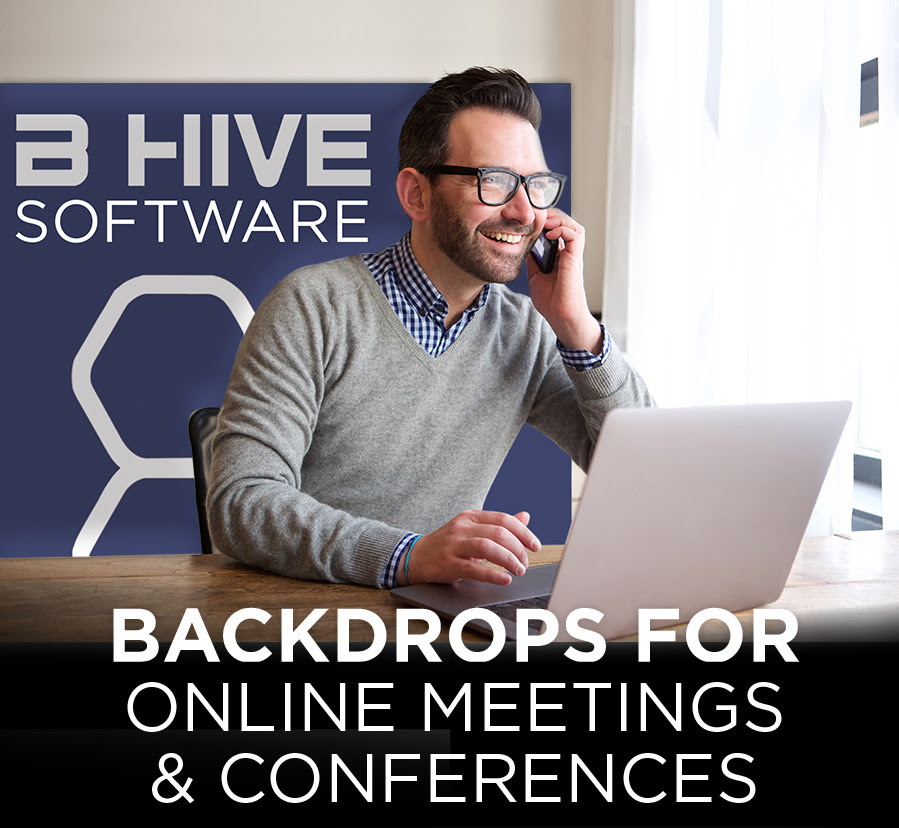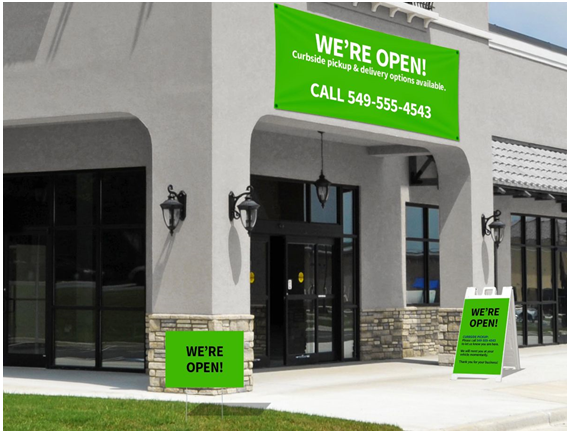 Vinyl banners, sidewalk signs and in-ground signage OH MY!
Businesses of all shapes and sizes are being forced to rethink the way they serve customers. Restaurants and bars are promoting drive-thru, curbside, take out, and home delivery service. Grocery stores and other retailers have reduced hours, limited purchases of some products, and even granted exclusive access to seniors during certain times of the day.

These are the customers that need you right now. Make contact, check in with them, and see how you can help them with signs and banners that can be seen from the street. Like banners, window graphics, sidewalk signs, and yard signs (on wire stakes or in metal frames).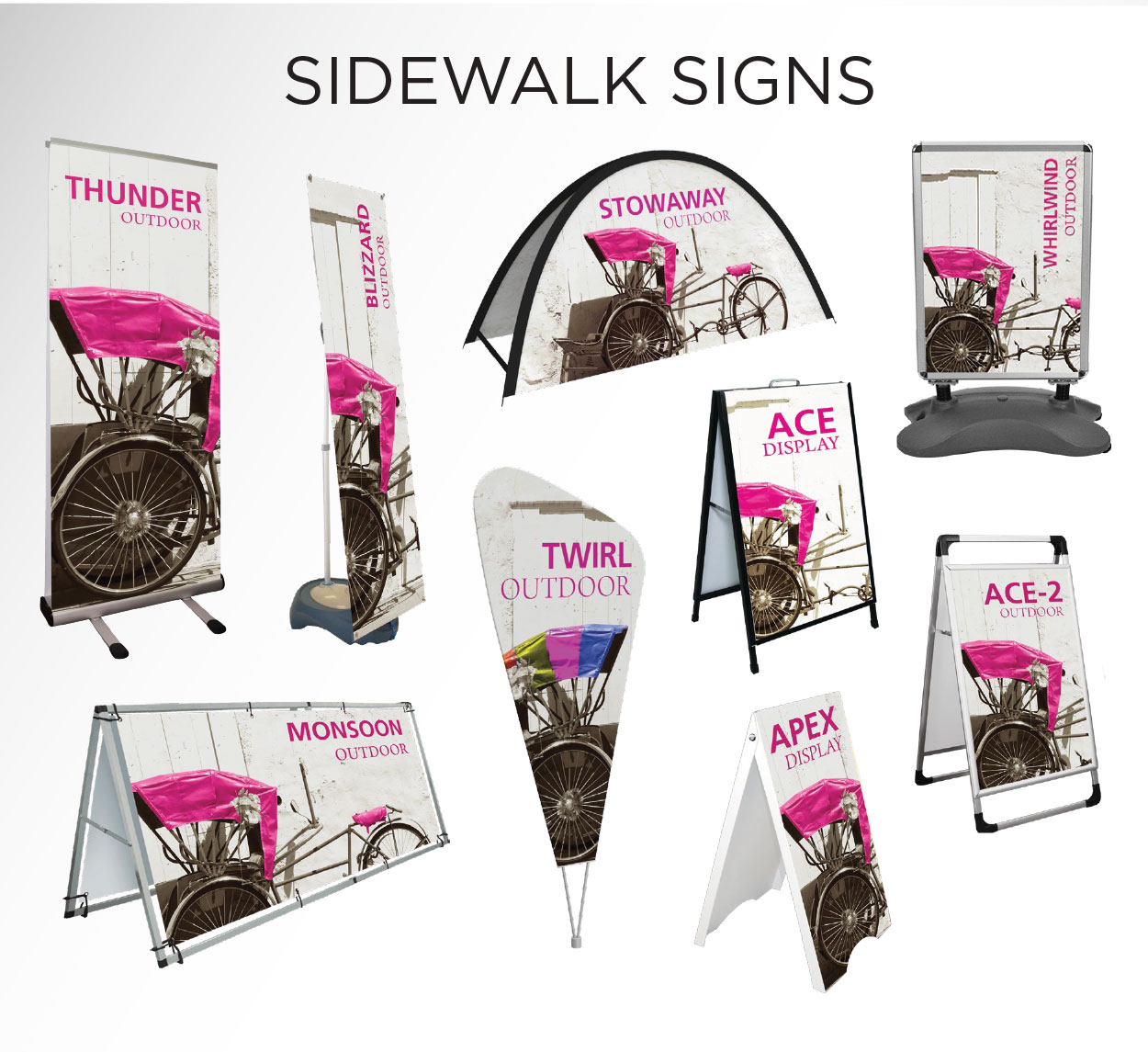 Is your business in need of getting your personal COVID-19 message to customers?
Our custom COVID-19 signage is a simple and effective way to grab the attention of customers and clients entering your business.
TENTS and SIGNS help support hospitals and medical centers as they establish temporary screening, testing and visiting areas.
Zoom Tents set up in minutes with no tools or loose parts. Heavy-duty and durable, the tents are stable and strong and can be used in a variety of weather conditions. Un-printed canopies and walls are fire-retardant and able to be cleaned and wiped down with disinfectant(s). Zippers and cut-out doors can also be added as desired.
We are open and able to provide phone and email support, and can arrange FedEx delivery.
We will make sure your signage is: delivered Fast, custom made for your specific message, the exact size & style you need. Please reach out by calling (800) 723-2050 or emailing [email protected] to let us know how we can help you communicate important health and safety information to the public. We can also help with designing custom graphics.
Together, we can overcome the challenges of the Coronavirus crisis. Contact us to describe your needs and we will provide options.
Remind visitors about social distancing!
Our temporary floor decal material helps to gently remind patients, staff and visitors to remember how important social distancing is. Ask us today how you too and remind people to keep their safe distance!
8 mil matte white textured vinyl with slip resistance properties, textile reinforcement and repositionable, removable adhesive
Designed for short term floor and wall graphics on carpet, tile, wood, concrete, metal, glass, and painted surfaces
Suitable for indoor and outdoor applications
No lamination required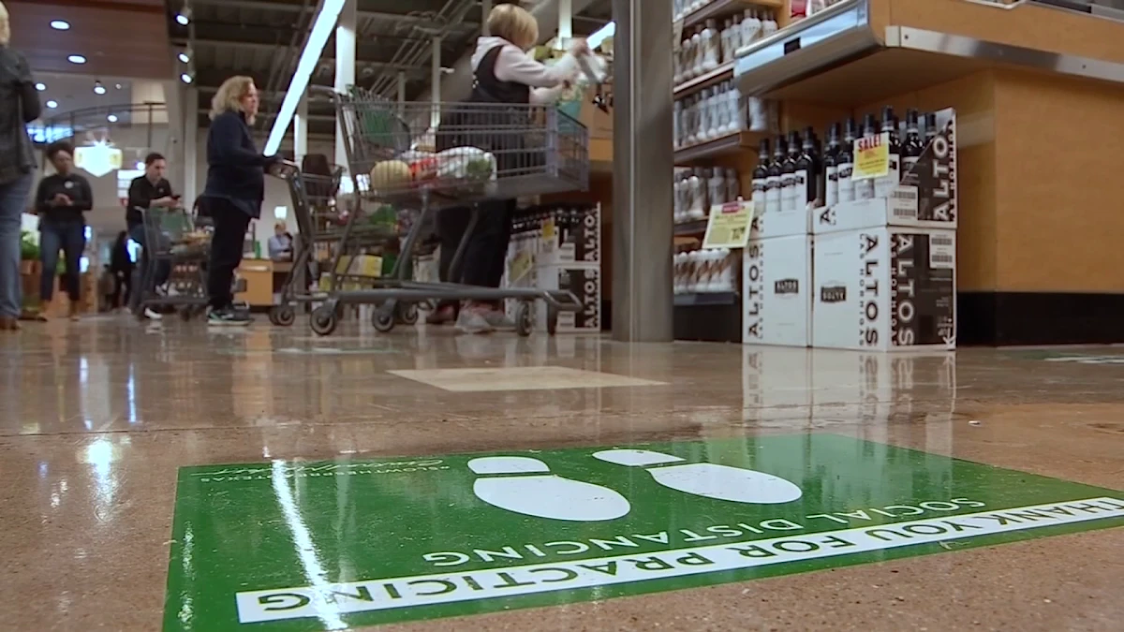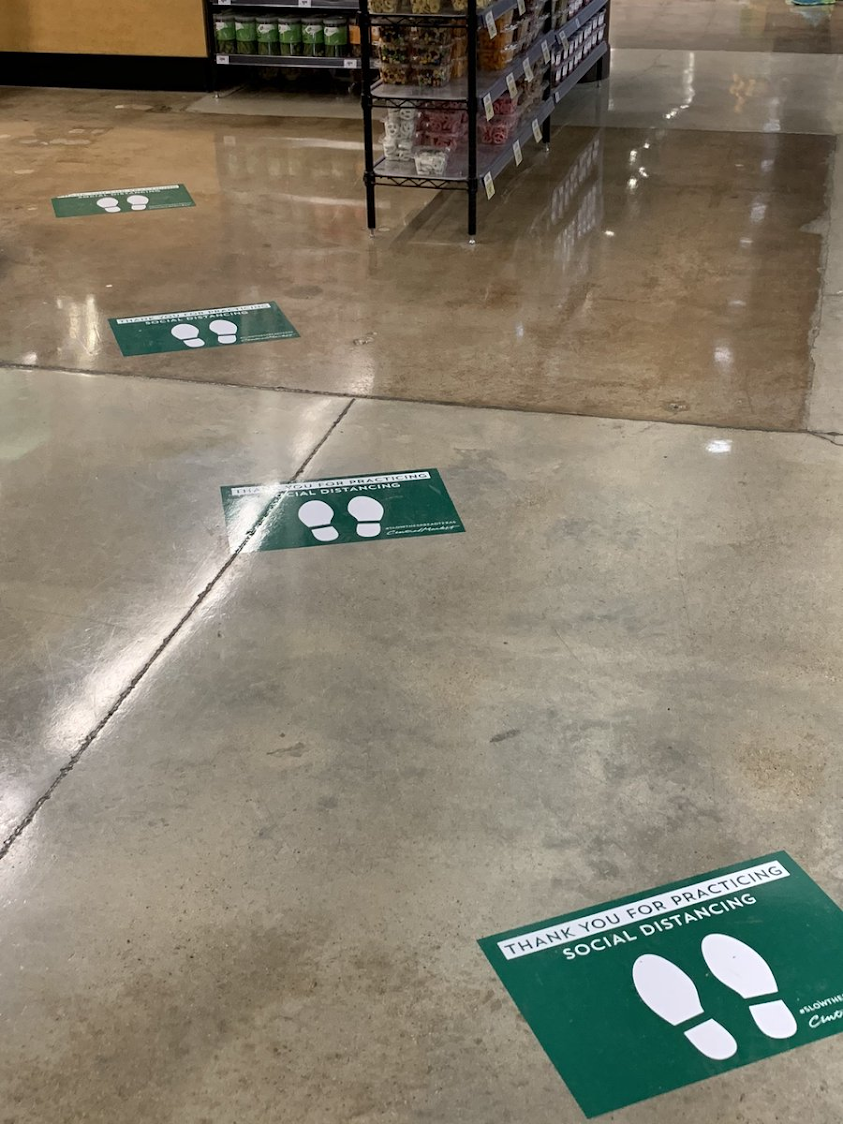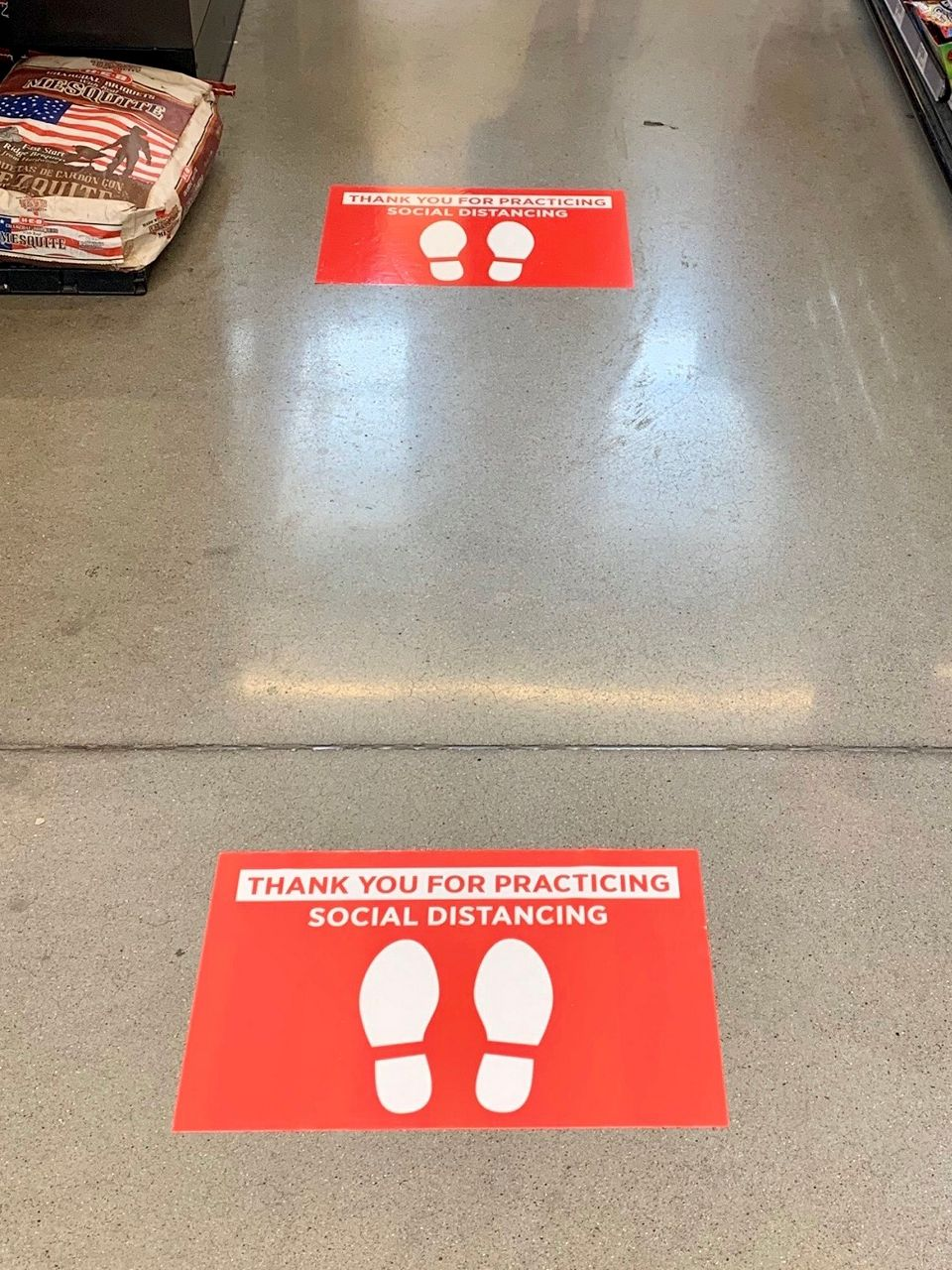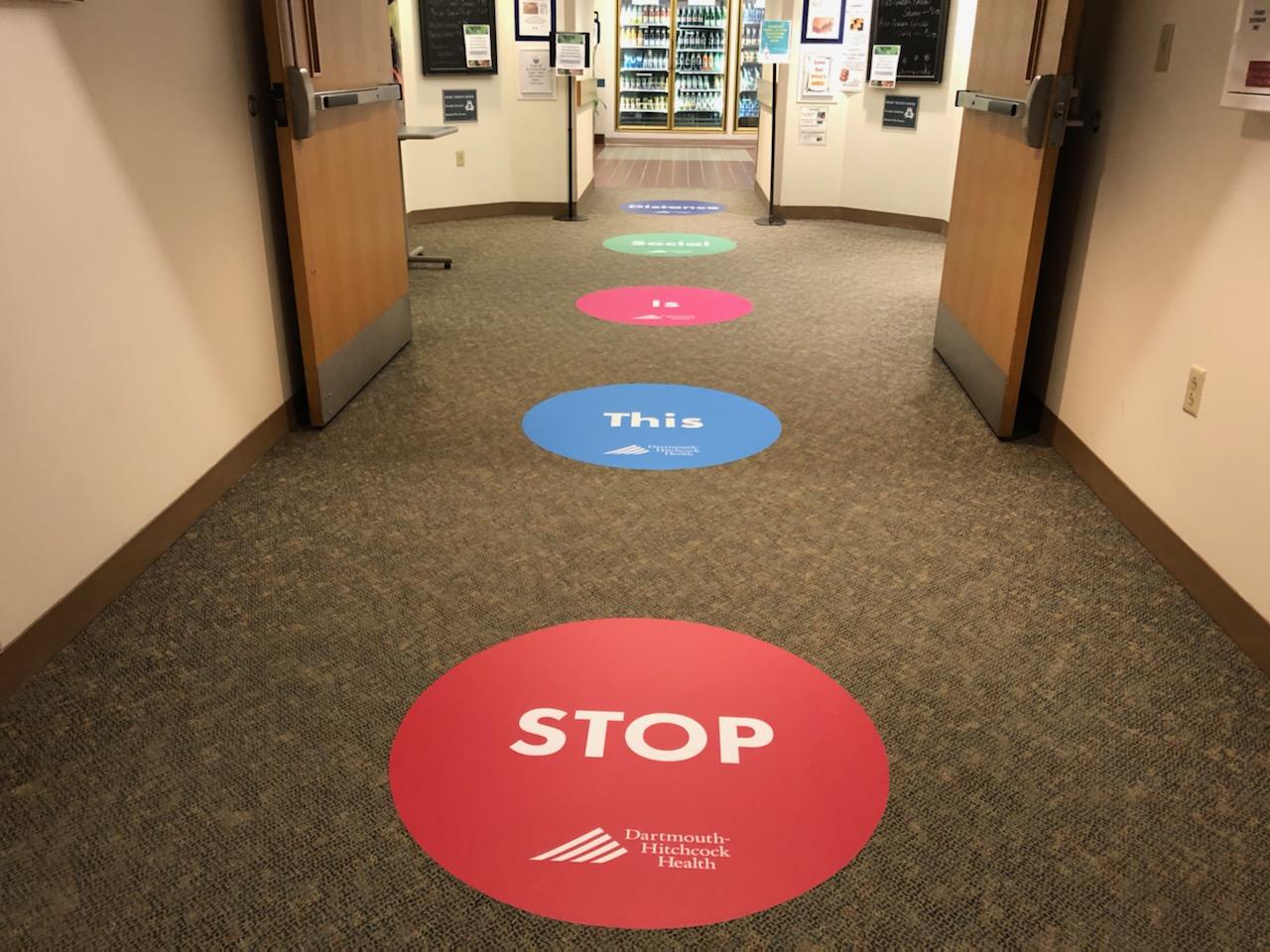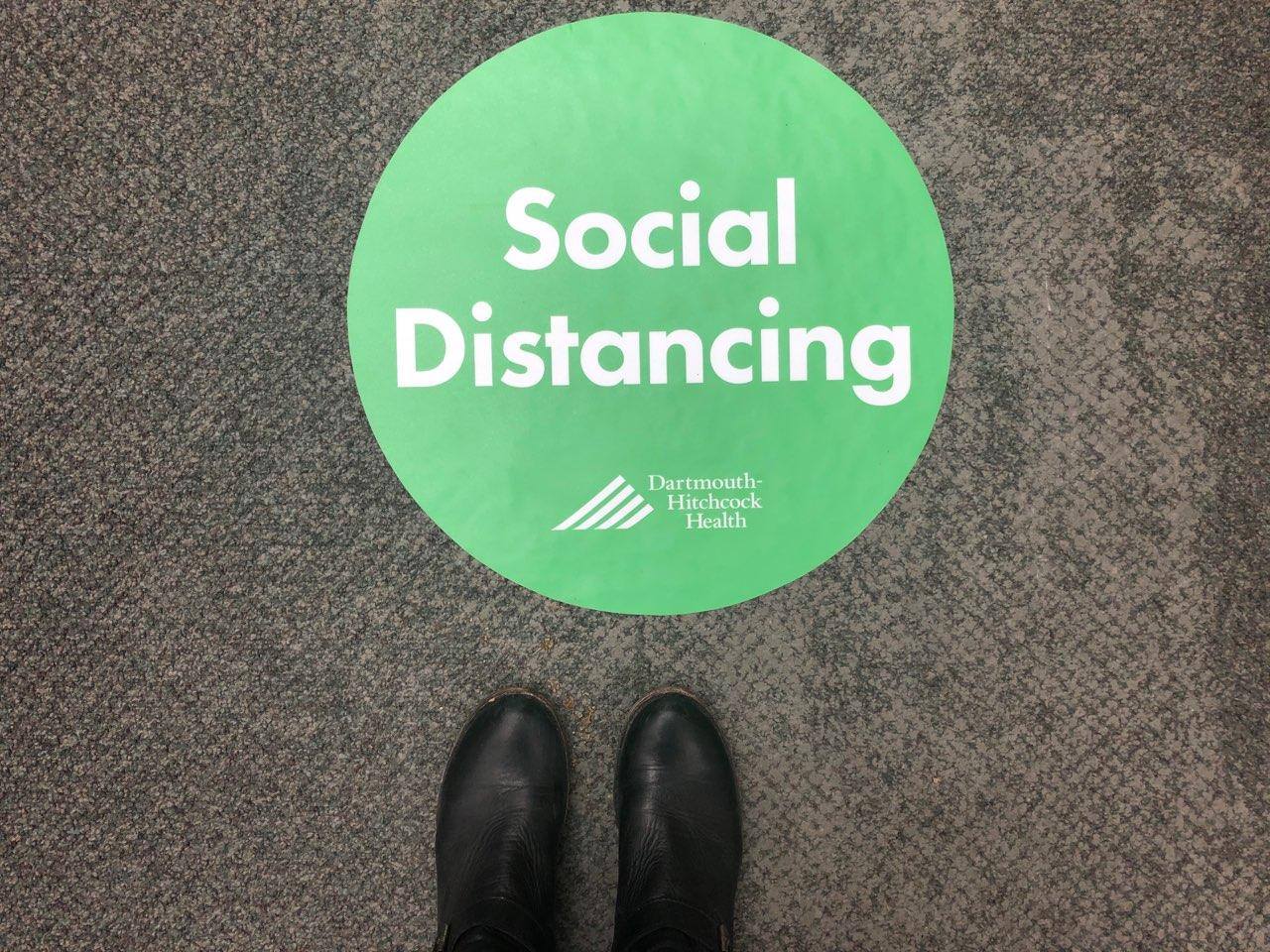 KEEP YOUR CUSTOMERS FEELING SAFE
Everyone wants to feel safe. By adding a hand sanitizer station to your entryway gives all customers the ability to keep the germs at bay. We are now offering a standard model starting at just $74.36 or $129.60 you can customize your hand sanitizer station by adding a 8.5" x 11" Top Sign frame to display your branding message.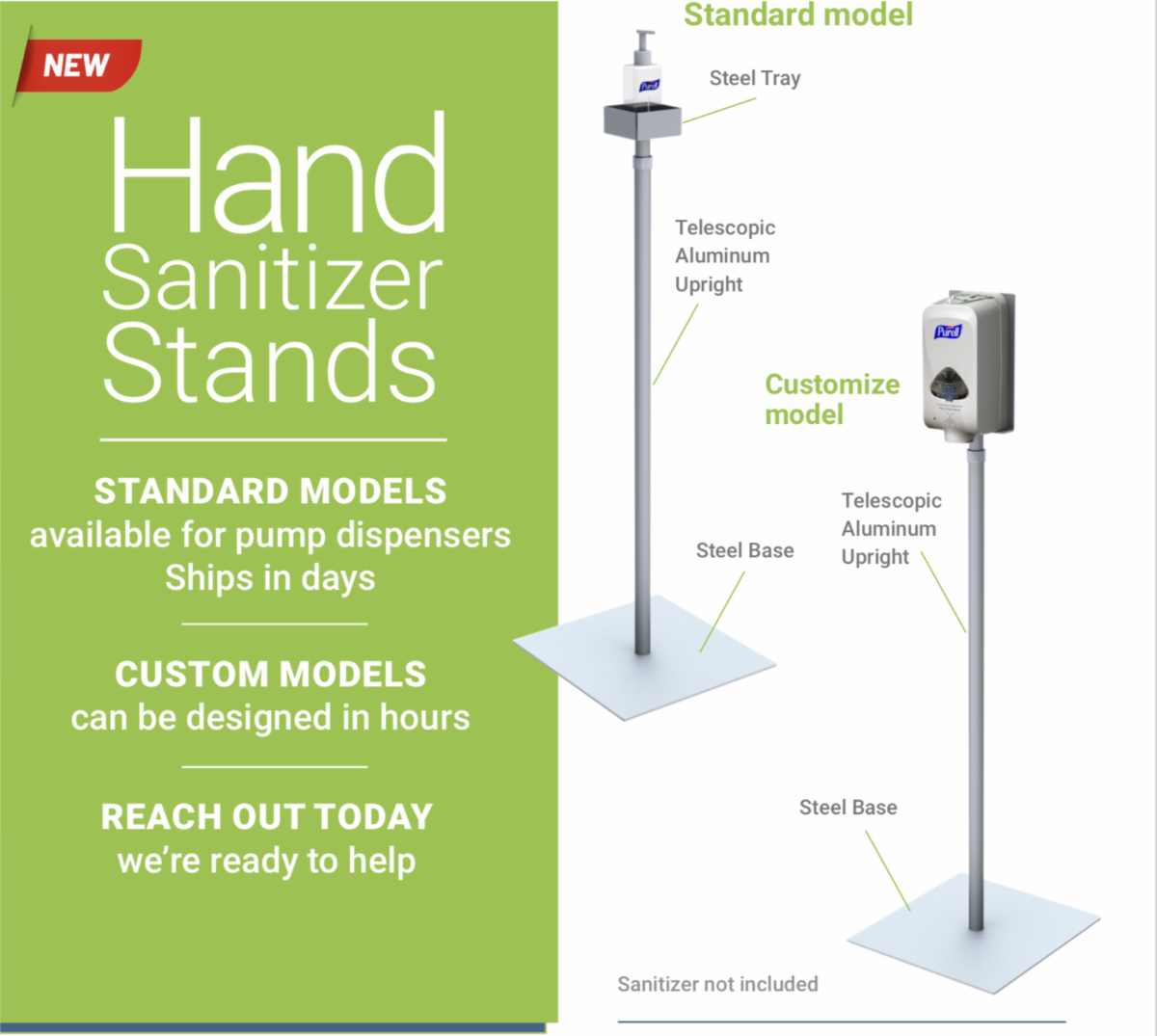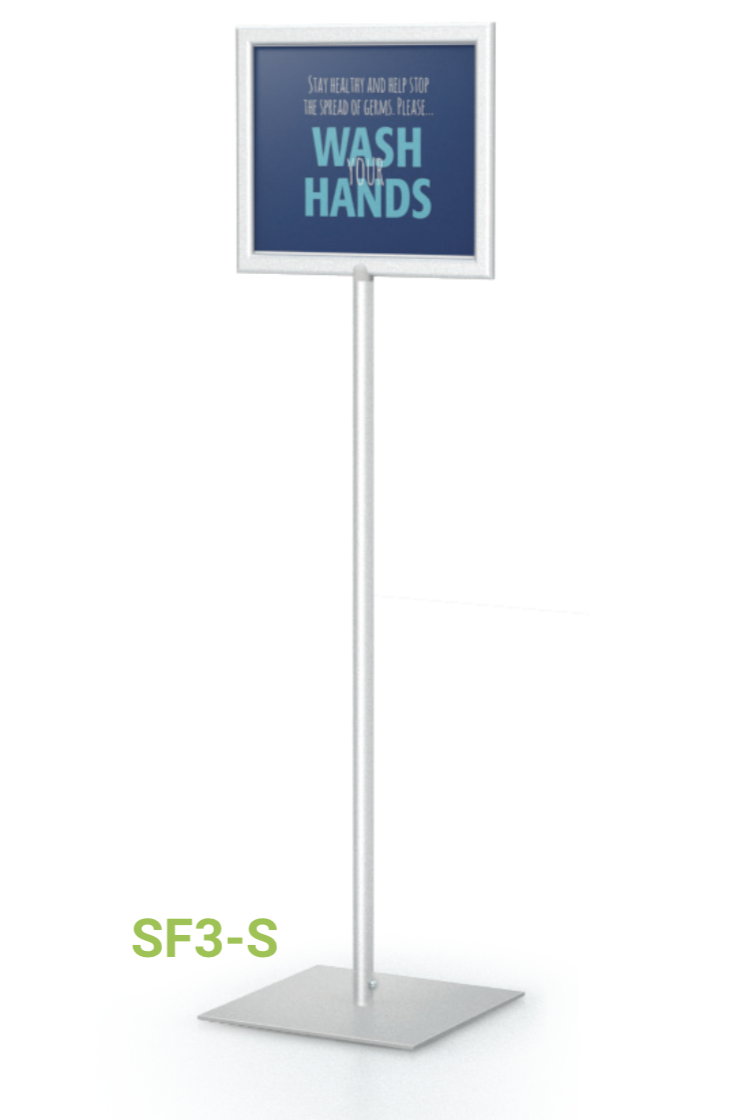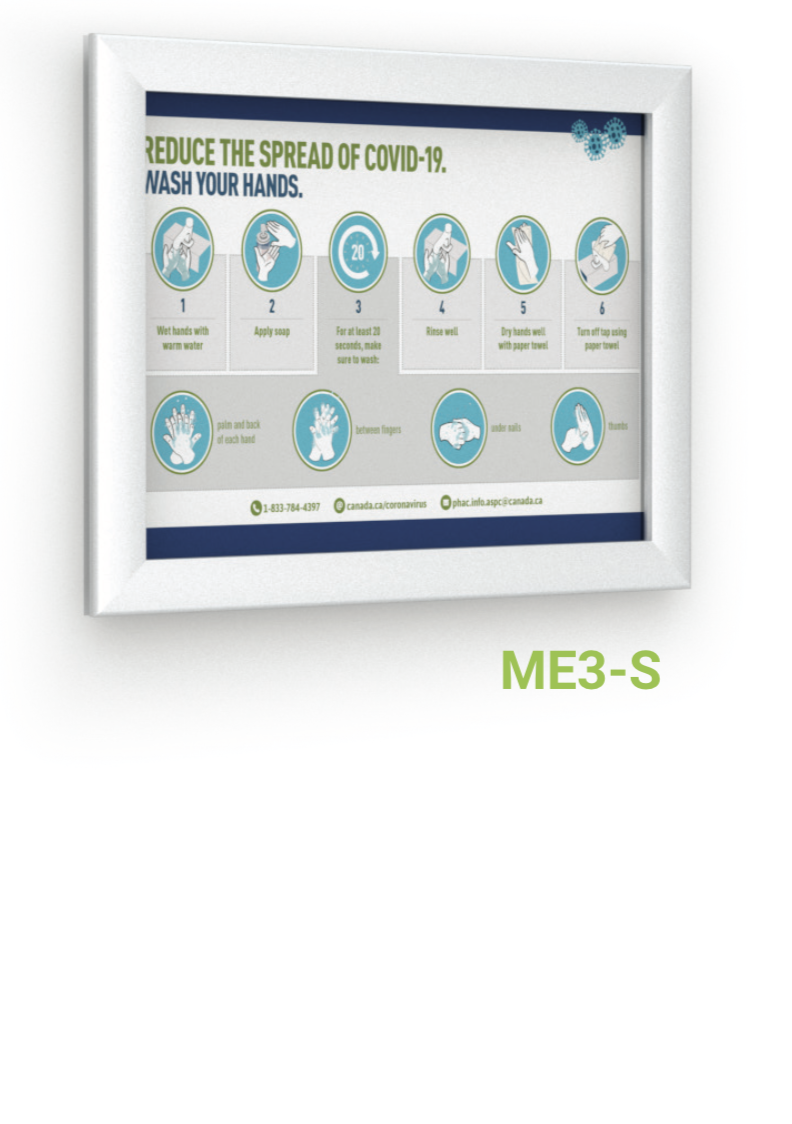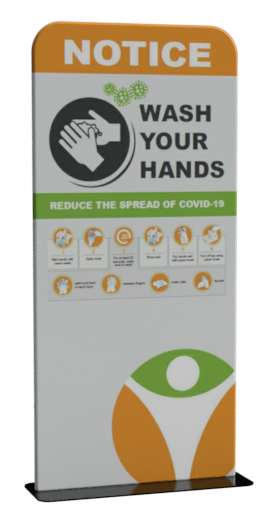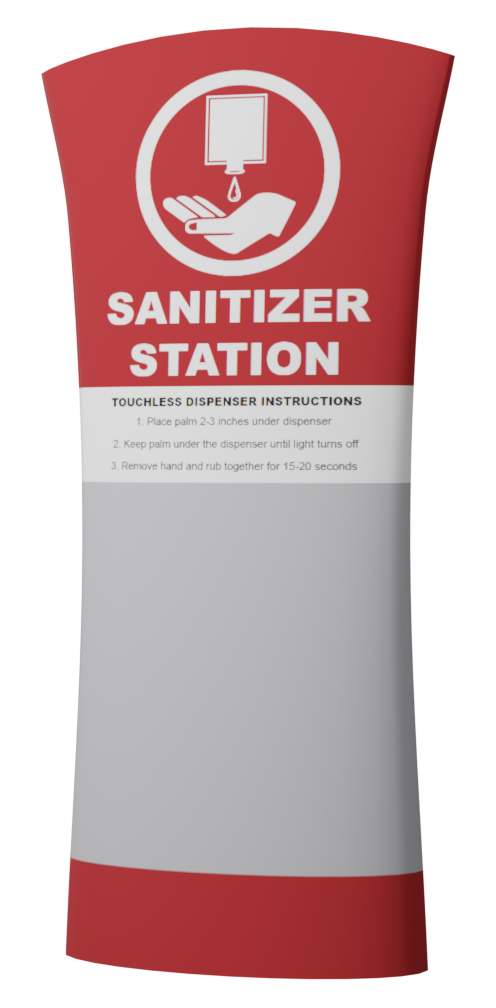 Our sales team is working remotely just like you may be. We are still here and ready to serve you.
If you need our support, please chat with us during regular business hours or send us an email. Or you can call 800-723-2050 so we can talk about your needs for the future. We will do our best to provide you with the products you are in need of. However, at this time, we may not be able to provide all the products listed on our site but will do our best to accommodate. We continue to monitor the COVID-19 situation and will follow guidance from public health officials and government agencies, so we can make ongoing assessments and consider ways to further support our customers and communities as needs unfold.
Please take care.
For more information about COVD-19 and what you can do to keep healthy and safe, visit the Centers for Disease Control at
cdc.gov
or your local health department's website.