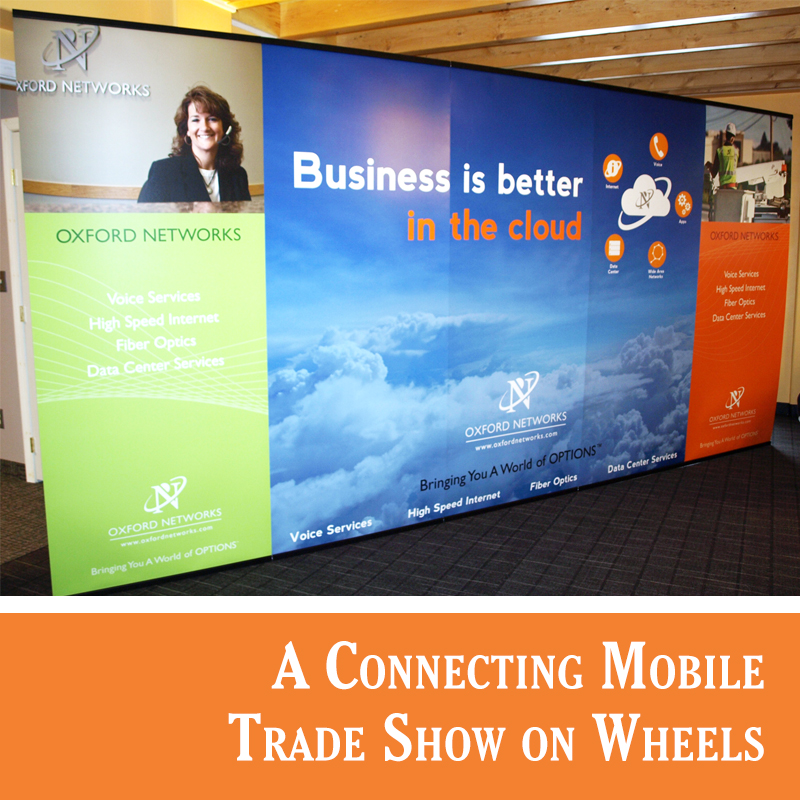 A complete Trade Show 2 GO!! A mobile trade show display on wheels!
Our Banner-Mate connecting banner stand trade show display system beats the same 'ol pop up display by a mile.
Aim for the clean and clear message … If you have been actively doing display research you already know that there are many varieties of displays to choose from. We will end your trade show display challenge by making sure you are aiming for the new fresh approach, the connected Banner-Mate connecting banner stands.
Aim for adapting and expanding … How would you like to cover the same "real estate" as a full size pop up display at your next tradeshow and for a lot less? The Banner-Mate II™ will accomplish both! Pay less than a 10′ full size pop up display and you could have yourself (3) separate units that form an 86″ high x 105″ wide straight mural backwall that is virtually seamless.
Unlike ordinary display systems, the standard 35″ Banner-Mate II™ units can be linked together using the our unique Flexi-Mag connectors which magnetically hook multiple units together.
Design your graphics so that each individual unit may be used independently as well as connected, making the Banner-Mate II™ even more of a great marketing resource. This allows you the option of using only one, two or three units for the smaller applications.
Just take it from the Oxford Networks example above.  The 3 cloud center panels can be used in a 10ft booth space but then with the addition of the 2 side panels their booth now adapts to fit within a 15ft booth space. "The 5 panel display looks fantastic. It was on display in a trade show yesterday in Bangor and everyone loved it. It was a huge hit. There were a lot of inquiries as to who made it for us and we let everyone know it was Affordable Displays. Myself as well as others here are very happy with the work Affordable Exhibit Displays has provided us." stated Colin from Oxford Networks here in Maine.
Another tremendous advantage is the clean edge to edge look. With no visible bases or feet exposed, only your top to floor graphics with be focused on. Keep your booth space functional with the 14.5″ deep footprint leaving more space for you to move around – a perfect choice where space is limited. The solid Chrome weighted base will ensure the stability and support needed.  Upgrade to the compact style shipping case with convenient wheels for a mobile trade show display on wheels.
Don't fuss with a telescoping pole, the included 3-section corded Graphic pole requires no adjusting to the right height needed so you easily achieve the right height every time. Supply us with your full color graphics and we will print them on our photo quality banner material. With a photo finish your artwork will represent you!
FYI Printing Process: Banner material is a Photofilm which is laminated. The front laminate has a matte satin textured finish to help reduce indoor glare. If your artwork is high photo quality this material will provide a photo output. Note: This material is intended for indoor use only.
5 Banner-Mate connected banner stand system package
* Set-up Size: 84.75″ high x 175″ wide
* Each Banner: 84.75″ tall x 35″ wide
* Weight: Approx. 8 lbs. per Banner Stand
* Warranty: 5 year Manufacturer on stand components
* Reuseable Grip Rail System
* Quick & Easy Set-up