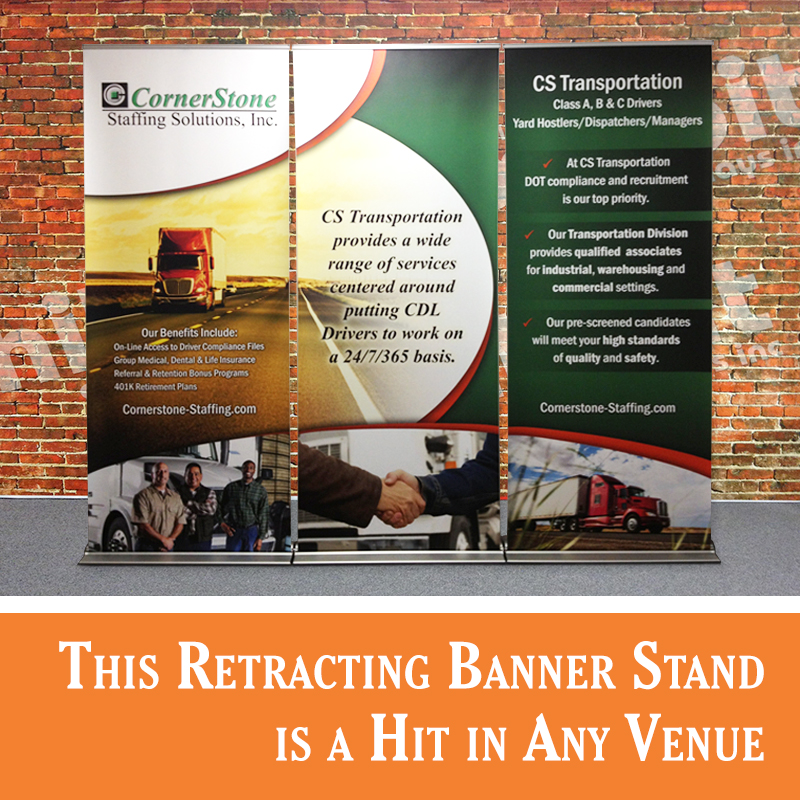 Retractable banner stands also known as pull up banner stand positively offer the simplest set-up out of any other trade show display.  With their sleek and simple appearance the focus will be on your full color vibrantly printed banner graphics.  Sleek, simple appearance makes the looks of this roll-up banner stand one of our most popular trade show displays.  
What company wants to be known for having the ugliest booth compared to it's competitors? That's where our EZPull-Up banner stand can save your reputation! The clean style of the retractable base is visually appealing and the low profile design targets the focus on your banner information.
The durable aluminum components are lightweight at less than 15 lbs. With all aluminum construction any one of our retracting banner stand units are perfect for trade shows, conferences, marketing events, small businesses, non-profit organization, airports, churches, car dealerships, hotel and bank lobbies!
These banner stand packages are HOT HOT HOT!  The EZ Pull-Up is a retractable banner stand model boasts a 5 year hardware manufacturing defects warranty.  The deluxe spring roller effortlessly rolls your printed graphic up and down inside the base.  With 3 sizes available there is a size unit for any use.  The 28″ wide EZPull-Up is perfect for more compact or small spaces, the 34″ wide pull-up banner stand is our post popular size and the 44″ wide retracting banner stand is great for larger space or is perfect for table top use.
AVAILABLE BANNER MATERIALS:
UltraBanner: 13 mil semi-gloss vinyl banner material with a lay-flat ability designed specifically for use in retracting banner stands. This is our standard retracting banner stand material.
PolyCanvas: 10 mil polyester fabric offering a soft canvas-like texture and matte satin finish. Ideal option when a fabric material is preferred. This is an upgrade in retracting banner stand material.
Blockout: 15 oz super smooth, scratch resistant banner media capable of producing a photo quality output. With its opaque blockout properties this material is ideal for storefront use or high lit areas. This is an upgrade in retracting banner stand material.