Your trade show table just isn't completed without your logo branding.  Simply put, it just makes your booth table and space come around full circle.  It brings an added branding to further reiterate your company's brand providing a higher, more professional look and feel to your booth space.
Purchasing a custom printed logo table cover can be a daunting task to begin.   For most, its choosing which type of printing method is the best for your company logo.  With our logo table covers you can choose from either a full 4-sided throw covers where table cloth fabric covers the top and all 4 sides of the table, or choose an open back solution which is 3-sided and the back of the table cover is mostly open allowing you to sit behind the table without having extra fabric hanging in your lap.
Affordable Exhibit Displays offers trade show table throws with custom graphics printing to fit standard size 6' folding tables and 8' folding tables.  Plus, you can add the convertible feature to an 8ft throw cover to ensure a proper fit on both 8ft and 6ft tables.
Sometimes, it's just about keeping it simple.  A 6ft 1-color vinyl permalogo or an 8ft 1-color vinyl permalogo table cover is the perfect choice.   The types of logo file needed to complete this type of table cover is a vector file.  A vector file is either an .eps, .ai or even a .pdf, you can read though the graphic specifications just to be sure you're submitting the proper logo file.
The permalogo comes in a variety of colors however you are limited to only the colors available.  Permalogo is vinyl cut letters or shapes that are heat set and sealed onto the fabric.  A Permalogo table cover may be washed but not machine dried and can be ironed but not over the Permalogo portion.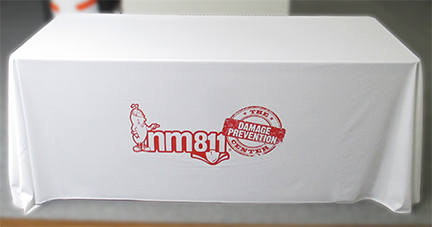 Sometimes, a full color printed 6ft logo table cover or 8ft logo table cover works better for your brand.  That's why we offer a full color dye sublimation printed logo table cover.  The dye sublimation printing process is best for complex images or artwork, images with gradients, PMS color matching, or printing that may be needed on the top, sides or all over the table cover.  Dye sublimation is a printing process in which the imagery is dyed into a white table cover fabric.  This process is similar to our clothing or bedding.  A dye sublimation logo table cover may be machine washed, machine dried on low, ironed or steamed.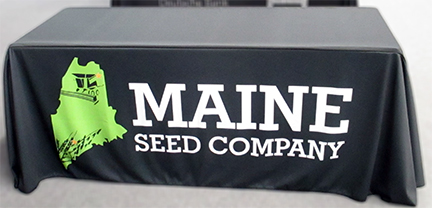 Table cover purchasing process with AffordableDisplays.com:
To submit your art files to us for printing onto a 6ft trade show table cover or 8ft trade show table cover, you must first select the table cover of your choice online and add this to your cart. After your order is placed, you will receive an email with your order number and our online FTP where you can upload your logo or art file. Or if you feel speaking to an Image Consultant at AffordableDisplays.com is the way to go just call 1-800-723-2050.  
IMPORTANT:  If you are planning on submitting your table cover ready to print then please use the appropriate table cover template (just scroll to the bottom and look for the tab called table covers, click on the tab to open revealing the template choices) to create your table cover.  You can just ask the Affordable Displays team if you need any assistance with setting up your logo.  You may submit your logo to our Graphics Dept. as well.  They will review the file type to ensure it is appropriate for the table cover printing process chosen.  Our Graphics Dept. can take care of the sizing and setup of your branded logo within the template if needed.  Of course, we provide you with an online EProof to approve before production begins.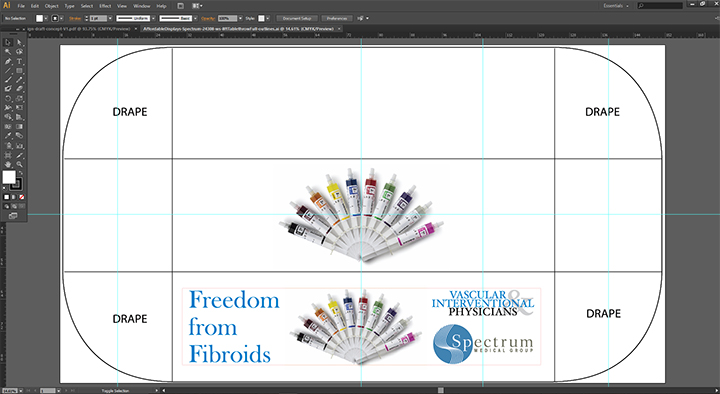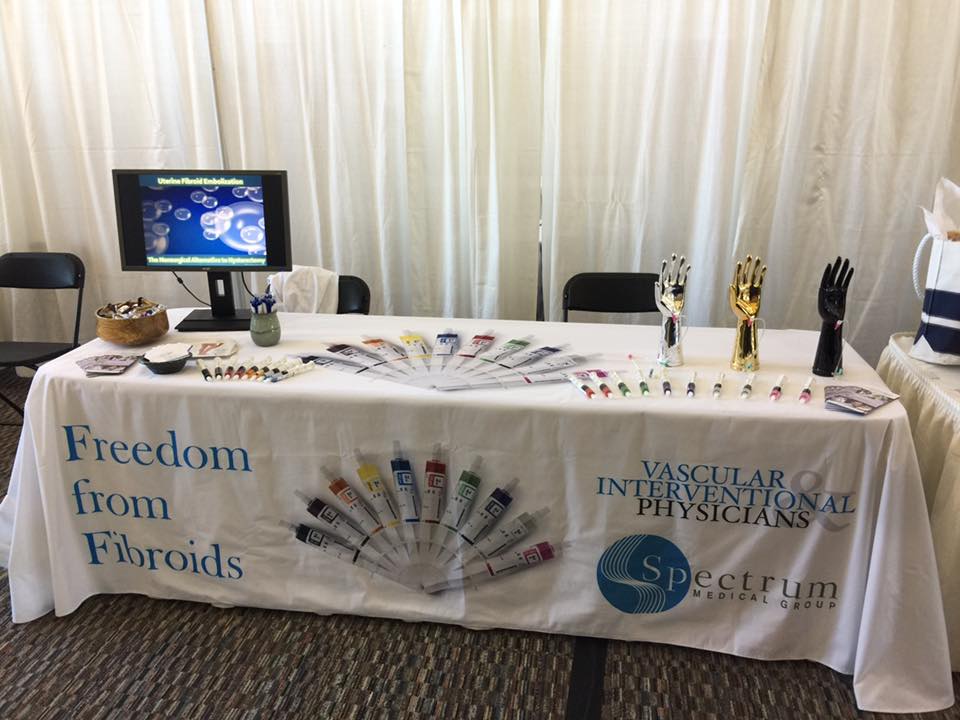 All table covers and trade show table cloths that include graphics on our website are priced either with a 1-color Permalogo or a full color Dye Sublimation printing process. This means that you won't be charged additional costs – as in set up fees – for the amount of printed colors in your logo or words in your art files. Additional charges will apply only if your logo needs to be recreated into a high quality format to achieve a top notch outcome.  
Eproofs will be sent to you within 24 hrs after you upload your logo file is received and no printing will occur without your approval. Graphic templates and sizes are available online and you can also request detailed art information from [email protected].