Has Your Display Passed Its Freshness Date?
You wouldn't think trade show displays have an expiration date, but just like milk and cheese your trade show booth certainly does expire. What's trending in 2003 is most likely not trending in 2019. You won't see an expiration date printed on the box, but it's not hard to spot one that's starting to turn sour. Here are our TOP 20 CLUES letting you know it's time to trash that out of style trade show booth and finally buy a new one.
You're trade show display might be past it's expiration date when . . .
1. Your graphics are attached with velcro to a fabric backwall. While that may be an acceptable option for a girl scout display at the county fair, it's no longer acceptable at a professional trade show.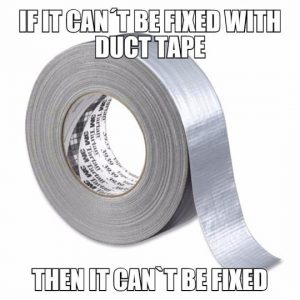 2. Two words: duct tape. We get it, you're excited about the new designer colors — but please refrain! Duct tape should never be a part of your design element.
3. You purchased your booth before the internet existed. Ummm circa 1990…YIKES!
4. Retro clothing might be making a comeback, but that should never be the theme of your trade show booth.
5. You decide to re-print your graphics but only have the original artwork on a floppy disk.
6. Your "parts" case is getting larger than your booth case.
7. The shipping labels have added 20 pounds to the weight.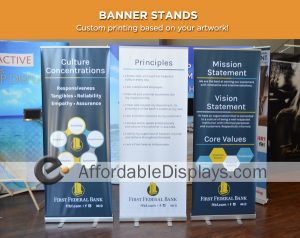 8. You dream about the $149 banner stands in the booth across the way.
9. The "No Questions Asked" Lifetime Warranty has expired.
10. It smells like the musty closet in the basement you store it in. No amount of febreze can't kill that odor.
11. You found the company you bought your booth from by flipping through the Yellow Pages.
12. Costs to store your booth have far exceed the initial booth cost.
13. Your graphics have a "1980's" theme complete with coke bottle glasses and bell bottom pants.
14. It weighs more than an elephant, soaking wet.
15. No one stops at your booth. Like ever. They just quickly walk by without making eye contact.
16. Your competitors ironically rave over your booth repeatedly saying "Why would you ever get a new booth?! No seriously, don't change a single thing!". Laughing hysterically as they walk away.
17. You found an AOL Free Internet CD from trade shows past at the bottom of the case. "You've Got Mail"
18. Your boss says, "Gosh golly fellas, we don't need a new booth – it's still groovy man."
19. It takes 5 men, 7 ladders and 2 cranes to set it up. In 2 days.
20. You purchased your booth when a penny could buy candy and milk was 25 cents.
No amount of duct tape or spare parts will revive that musty old booth. Be honest, if you answered "Yes" to ANY of these clues, it's time to toss your trade show booth and contact us right away! Just imagine the look on your competitors faces when you stroll in with your fancy, new booth – 2019 graphics and all!