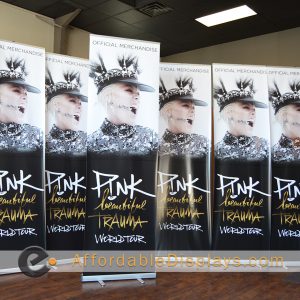 You don't have to be a trade show junkie or even have attended a trade show to have seen a banner stand at some point in your travels. While they are perfect for trade shows, you can also find them in retail showrooms, shopping malls, car dealerships, your local pharmacy, and even your doctor's office. Other uses include airports, schools, churches, hotel and bank lobbies and much more.
Banner stands are dependable and the easiest way to renew excitement in your brand and really insure the visual impact to get you noticed. The truth is, banner stands will enhance your marketing effort and reiterate your message every time someone looks at it. Let's take a moment to review the many banner stands on the market today to get you familiar with all the options.
RETRACTABLE BANNER STANDS
The most popular option is the retractable banner stand, also known as pull up banner stands or roll up banner stands, because they do just as their name says. Think of a simple window shade – you pull down the shade to cover your window. Well, a retractable banner stand works just the same except you would be pulling it up from the base and attaching the top of the banner to a support pole in the back.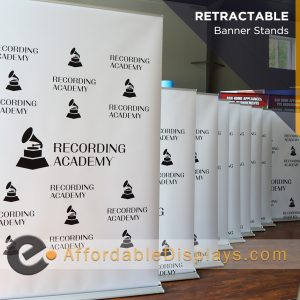 You'll be amazed at how much visual appeal your retractable banner stand will add to your retail space or trade show booth space. And the simplicity of your banner rolling into the base will make your purchase worth while.Various sizes available from table top banner stands to full height floor standing models, available from 31″ wide to 60″ wide, with options for single sided or double sided units.
Your retractable banner is typically available in 3 different style materials including UltraBanner vinyl, our most popular PolyCanvas fabric, or SuperSmooth Blockout. Offering different banner materials allows us to maximize the potential of meeting every business' budget.
Ordering is quick and easy – just send us your graphic designed file, we'll install it into the base for you so when you receive your order it is ready for use immediately. Be sure to take advantage of our in-house graphic designers or submit your own custom artwork. Whether it's price, warranty or usage that is most important, we have a retractable banner stand that's right for you.
Start shopping for your next retractable banner stand now!
Non-Retractable Banner Stands
The portability of our non retractable banner stands allow you to take them anywhere, use them anytime, at any occasion to promote your business. We've chosen our banner stands the most common features important to any trade show exhibitor: lightweight, easy to travel with and quick set up.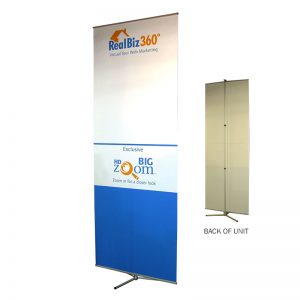 On our user friendly website, you can find popular styles such as the Multi-Master banner stand by Mark Bric. The Multi-Master banner stand allows you to change your banner easily with the patented quick-change banner change system and is backed by their 10 year warranty so you can't go wrong. And if extra height is what you are looking for, this Multi-Master non-retracting banner can stand as tall as 10ft plus comes in 3 different widths: 24" wide, 36" wide and 46" wide. Every order includes custom full color printing. Take advantage of our in-house graphic design option or submit your own custom artwork.
Quite possibly the simplest non retractable banner stand model of all is the PlazaX banner stand. It consists of a simple "X" frame and a high quality vinyl banner with grommets – that's it! Doesn't get much simpler than that!
Shop for your next non-retractable banner stand now!
tension fabric banner stands
Be the talk of the trade show with the ShowFlex ultra portable trade show display banner stand. The ultra lightweight fabric banner remains attached to the hardware when folded making set up within seconds and folding down as easy as an umbrella for maximum portability.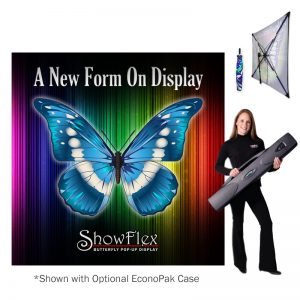 Setup is a breeze with it's no tool assembly! Simply slide the hub to unfold the arms, lock the hinged leg and you are ready to show.And when the display is packed away, the tension graphics remain taut to prevent wrinkles from forming. Shop all Showflex sizes below and really stand out at your next trade show!
Weighing less than 6 pounds, the ShowFlex eliminates your current pop-up style display with a display that stands out just as much. Includes full color dye sub printed fabric banner on a wrinkle resistant knit fabric so you never have to worry about wrinkles since your banner is pulled taut by the hardware. Optional lights are available for added exposure.
Shop for your next tension fabric banner stand now!
connecting banner stands
Connecting banner stands put you in charge and enable you to become a more efficient trade show exhibitor. These lightweight connected banner stands allow your brand and business to be the one that stands out, the trade show display that everyone comments on. Finally, you'll discover how mobile a banner stand system can truly be.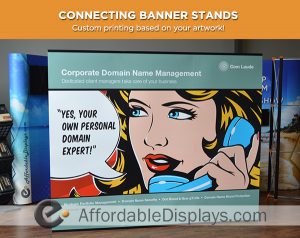 Consisting of pole stand hardware, our Banner-MateII series allows you decide how many units to connect together so the display works for you. Unlike ordinary banner display systems, the standard 35″ Banner-Mate II units link together with our patented Flexi-Mag mating magnetic for a tight connection between banners making them look virtually seamless. You have the freedom to design your graphics anyway you'd like whether you're connecting multiple units together to create a large graphic backdrop or feel free to design each custom banner so you can use them individually.
Our ISOframe series offers the convenience of a banner stand with the look of a pop-up display. Tightly linking banner panels allow you to show off your brand with a virtually seamless banner backdrop. Bend your way to trade show success! Offering the ability to "flex" the ISOframe Ripple into almost any shape you want, you can reduce or enlarge the size of your display to suit your needs.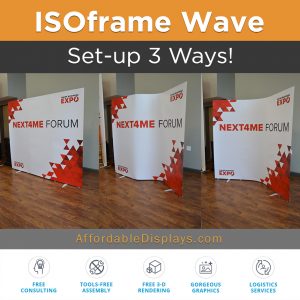 With a virtually seamless look to your graphics, you'll be amazed at the quality of the durable aluminum hardware that's also lightweight for travel. TIP: Maximize on the flexibility of the connecting units by incorporating a projection area within your design for the ultimate trade show experience. No matter how you shape your ISOframe Ripple, you'll experience a clean, contemporary display that provides a strong visual impact at your trade shows, retail locations and more.
backwall banner stands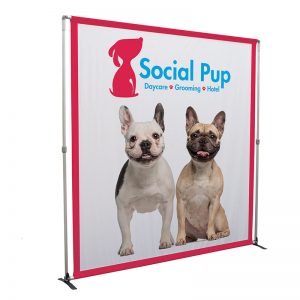 Our backwall banner stands feature a dye sublimation banner graphics and lightweight hardware that is perfect for the traveling exhibitor. Perfect for new product presentations, media events, photo backdrops and of course trade shows, you'll arrive stress-free with any one of these banner backwall systems.
Models available include the Bravo, Traverse, and Deluxe adjustable pole banner stands which offer with one-piece full color printed fabric dye sublimation fabric graphic banner with pole pockets at top and bottom to hang on the stand.
Whether your graphic design incorporates a large high resolution photo or simple step-and-repeat logos, you have the ability to make the most of your marketing budget. Roll into your next trade show, photo shoot, sales meeting, product showcase or marketing event with ease knowing your complete backwall banner stand packs light into one shipping case.
outdoor stands and feather flags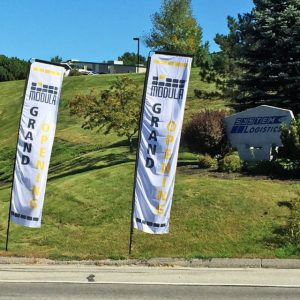 Simplify your outdoor advertising efforts with our wide variety of feather flags, outdoor banner signs. You've most certainly seen them before and thought "my company should have that"! Our outdoor feather flags provide the ultimate in attracting new customers. Place right in front of your location and you are sure to get noticed, outside a strip mall to draw attention or retail curb for maximum visibility. Versatile and portable enough to easily be moved anywhere to insure you're meeting your target audience. Incorporate your full color custom graphics and make the most of your marketing budget.
Another great outdoor sign option is our Roll Up Outdoor Double-Sided banner stand. This 31" wide stand includes a water base, collapsible foot, and two support poles with springs. Due to the support springs, your retractable banner stand offers reliable stability and will sway away in the wind without blowing over.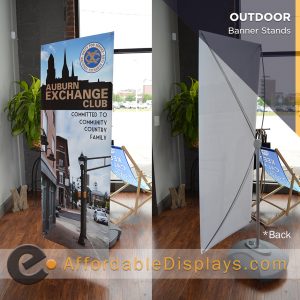 The tolerance and flexibility of this outdoor banner stand can withstand wind gusts up to and amazing 25 mph. The secure aluminum clamping rails tightly grip your custom banners to the top of the support poles so there's no need to worry when your banner stand is outside. Finally you're business will get the attention it deserves!
Shop now so you can look great outside as well as inside!
table top banner stands
What's most important to you when selecting a table top banner stand? Portability and set-up time of course! The ability to set up your table top banner stand in under 30 seconds is what makes our table top banner stands perfect for product presentations or quick marketing meetings. Your eye catching custom banner will be the talk of the trade show. And with each unit including carry bag you'll impress other exhibitors when you walk in with your lightweight, travel friendly banner stand.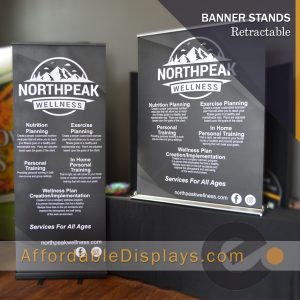 Of our many models available, the Superscreeen table top banner stands are definitely one of our most popular due to the two sizes available. Both sizes, 48" wide and our largest size 60" width, both have an impressive 55″ tall banner height. Even at it's table top stature, your custom banner graphics will create a buzz showing off your branding like no other.
By far our most favored table top banner stand model is our 44" wide EZPull-up with a banner height is 55″. The main feature that attracts most exhibitors is the low profile and shallow depth of the base allowing the focus to be on only your banner graphics, while still providing plenty of space to spread out your business cards, handouts, give-aways or a raffle entry area.
Shop for your next table top banner stand now!
More about AffordableDisplays.com
Affordable Exhibit Displays has been a family owned and operated company since 1994 and over the last two decades we have provided turnkey trade show displays, such as the roll up banner stands, indoor banner stands, outdoor signs, retail and showroom signs, hanging custom banners, custom table covers, folding brochure rack, life size cutouts or custom standee and full size displays to make any trade show exhibit you attend a resounding success.
With online pricing and variety of sizes and styles, we insure you will make the most of you trade show budget by shopping with us! Take advantage of our Flat Fee FedEx Ground shipping, in-house digital printing and knowledgeable associates with 10+ years of longstanding industry expertise. Rest assured, partnering with AffordableDisplays.com for your promotional banner stand display purchase will be a simple and easy one. Browse all options and pricing in one place to simplify your online banner stands shopping experience.
We also welcome you to expand your search and take a peek at our other trade show displays while your visiting. We guarantee your search stops here with an all access pass to view detailed product pictures and easy to find pricing with our user-friendly website. Shop our site and we guarantee you'll find the perfect style banner stand!
Need help with graphic design? Ask us how we can help insure your banner stands will catch the eye of potential clients and competitors. We're so committed to providing optimal service and quality that the printing of your banner stands is done in-house at Affordable Exhibit Displays.
There's no better partner than AffordableDisplays.com when it comes to trade show displays and banner stands. Call us today at 1-800-723-2050 to educate yourself before you buy.