Does it seem to you that some businesses have it all together when exhibiting at a trade show?
Almost like they have the secret recipe for networking and bringing back a positive return on investment. Their secret is it's no secret at all, it's simply this:
A successful trade show is measured by how much effort you want to put into it.
Yes you read that right. Sounds simple, or is it. Being that we are a trade show display company, we've attended many and have seen a thing or two at different trade shows. So here's our best tips, tricks & secrets for a successful trade show.
#1 Find out who will be attending
Most trade shows provide an attendee or exhibitor list in advance. This is very valuable information. Before the show, figure out which contacts you think may be interested in your business. Consider reaching out to let them know you'd love to meet them and encourage them to stop by your booth. Don't make the mistake of spamming their inbox by selling your product or service right away though. Keep the first contact with them cordial and personal.
#2 Be physically prepared
Trade shows are known to be draining, mentally and physically. If you're an extrovert, you might not have any trouble with the busy, sometimes chaotic atmosphere. But if you're more of an introvert, you could find your energy depleted halfway through the day.
Get a good night's rest before the event and stay hydrated during the event. Steer clear of alcohol if it's being served as this will just wear you down. You're going to be standing and interacting with people for hours on end, so try to get out for some fresh air to clear your mind and get your blood pumping.
#3 First impressions are everything – no, really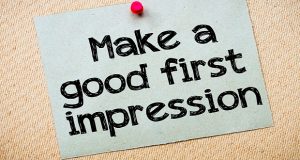 Yes, we are going to say it…You never get a second chance to make a first impression. Studies show that your first impression has a high correlation with the long-term status of your relationship. Our first opinion of someone forms in only one tenth of a second and you only have 3 seconds to grab the attention of potential customers.
This doesn't only apply to your personality and appearance though, it also applies to your trade show display set-up. We realize not all companies have a big trade show budget, but one thing that should never be left to chance is the trade show display representing your company.
Other than the timing of your first impression, whatever you do don't sit down in your booth. You should always be face-to-face when greeting attendees as this implies you're excited to be there, which makes them excited to be there. If you need a break, walk away and sit outside or sit in a common area. And don't leave drinks and food around the booth either.
#4 Make your trade show booth stand out
Most trade shows will provide you with a 6ft or 8ft folding table, but they do not provide a table cover. Make sure to get one that complements your display and represents your company's image and color scheme nicely. Arrange the items on your trade show display table in levels. Put the larger items at the rear, shorter items in front of those, and even shorter items in front of those. It make seem obvious, but you want to make sure your table looks organized.
Use a stand-alone presentation board, table top display, pop up display or banner stand to highlight your business with photos, and also show how clients can benefit by using your products or services. Be creative with photos and designs t insure your company will stand out from your neighbors. Just be sure your company name and logo are more than obvious within the design. Your goal is to get noticed, not ignored.
#5 Welcome your visitors with a smile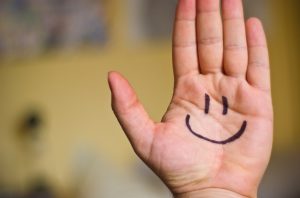 This is quite possibly the most important tip: be friendly and inviting. Say "Hello" to those walking by or that turn and look toward you or your trade show booth. Strike up a conversation, small talk and be sure to have a short introductory speech ready. And remember to have fun!
#6 Use video or slide show presentations to draw attention
Develop a video or slideshow presentation to display on TV monitors in your booth. There are various stands and racks available for mounting flat screens for trade shows or you can rent or borrow this equipment if you don't already have it. Your visitors will find this visually appealing, and it will draw their attention into your booth.
#7 Have plenty of giveaways – and business cards
Be sure to pack plenty of trade show giveaways such as brochures, pens, magnets, and anything else that has your company name and/or logo on it. The use of a display rack for showing your flyers, specials, brochures, and such is an inexpensive way to organize the clutter. And don't forget your business cards! Your business card is basically an invitation for extended conversation beyond the trade show and at the very least a reminder of who you are.
Most people who attend trade shows are expecting to take home some sort of goodie. If you're looking for something different to give away, pre-packaged food with your company contact information on it is an easy giveaway.
#8 Follow up fast
Follow up with leads a day or two after the show. It's the most dreadful job after exhibiting at a show but it is also the one task that allows you to rate your ROI and decide of a particular trade show is worth going to in the future. Get back with people quickly. Even better, set appointments during the show so you are on your prospects calendar. Trust us, the longer you wait the longer they have to forget who you are and what you said.
It might seem odd, but people really don't have many interactions at trade shows. And as much as you want to believe yours were different or epic, trade shows can be somewhat of a whirlwind and it's tough to remember everyone's name and product after the show.
Final Tip
Give it your all, every time. Take plenty of time to prepare, because trade shows are a big investment so make it worth it. We understand standing at a trade show sounds easy; but it's far from easy. It requires a ton of planning and hard work, but it's also a beneficial marketing opportunity that can provide huge benefits if done right. Plan well, have fun, and be open to interacting with new people, because you never know who you'll meet.
Finally, after it's all said and done, learn from your mistakes, keep tabs on what worked and what didn't, make adjustments, and get ready for the next show!