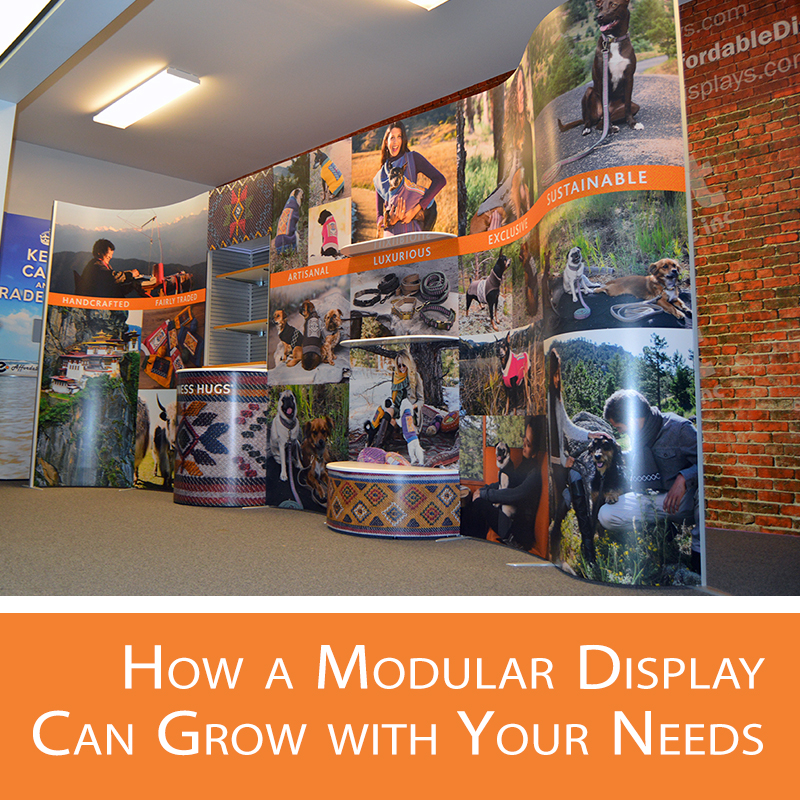 6FT, 8FT, 10FT, 20FT, 30FT, OH MY!  Avid trade show exhibitors know how frustrating it can be to bounce from one show to the next and have different booth spaces at each event.  A 6ft display certainly doesn't fill a 30ft booth space.  Well, it does but then your booth space looks sparse.  That's where a modular display system is the perfect solution to the many size booth spaces your business can encounter.    
A modular display system is a one model fits all size booth spaces.  With the flexibility to to minimize or maximize on your booth space a modular display can be the exact style trade show display your business is in need of.   A modular display is constructed with individual units set to a standardized size that connect together allowing the user to add or subtract the individual units.  This provides flexibility for a variety of different booth space uses.
The perfect example of a modular display system is the ISOFrame Wave modular display by AffordableDisplays.com.  This modular display is the first fully flexible customizable trade show display system with connecting panels that can be shaped and curved to fit your trade show booth space.  Each individual section is 31.5" wide allowing the user to create a backwall fitting the individual show needs.  Plus, the biggest benefit to the ISOFrame Wave is the ability to shape the panels as needed as well.  Curving back to front or front to back, angling, shaping and contouring the booth space can provide a huge benefit to each event.
The ease and beauty of the ISOFrame Wave is the unique FastClamp locking system.  It provides a tool-free assembly with this patented connector system which give you the total flexibility of your ISOframe system to flex 180 degrees in both directions.  Just flex the entire display wall into the trade show booth space at each venue location, extend or reduce as your conference space requires. All thanks to the unique and patented Flexi-Wave linking graphic panels.  The high quality full color printed graphic panels magnetically attach onto the framing for easy installation and replacing or updating of graphics.

Our ISOframe Wave Brand modular display graphic panels are manufactured exclusively by Affordable Exhibit Displays at our Maine, USA facility so you can expect high quality with this display booth. We aim for a trouble free life for your display and include a Lifetime Warranty on the ISOframe hardware components. If any issues arise due to hardware manufacturing defects the parts will be repair or replaced at no charge.  Everyone wants good quality results – not only at the time of purchase but for the future as well.
On top of the unlimited flexibility options there are so many accessory options to further provide usability to the ISOFrame Wave.  To name a few options, media screen monitor mounts, podiums, shelving, doors, literature holders, slatwall, end caps, storage rooms, and more.  A super strong frame means that graphics hang perfectly and heavy media screens and useful table attachments can be attached easily – all without tools of course – in true ISOframe style.  The aluminum framework is easily assembled and all hidden for maximum visually graphic effects.  
Easy to transport with a tool-less assembly make the ISOframe Wave unit the perfect modular, self-build display and exhibiting system made today.  Add independent circular podium or rectangular podium or LED stem lighting to highlight your full color graphics.
With these benefits in mind, take a moment to research the many options the ISOFrame Wave modular display is able to create a totally new and different look that can still work in small and large trade show floor spaces.