Get The Most For Your $$$
Many of our customers purchase portable event displays mainly for use at a trade show, but have you ever thought of utilizing the same display in other ways as well. We realize not all companies also do other face-to-face marketing events such as open houses for real estate companies, pop up shops for retailers, red carpet events or other business-to-business networking events. But have you considered maybe you aren't doing these other events because your trade show display doesn't accommodate for the multi-use?
Below are some examples of how you can use our portable event displays for other events besides trade shows. If you already own one of our portable booths but want to get more use out of your portable display between trade shows, feel free to reach out and chat with us for ideas to get creative!
Lounge, Discussion Area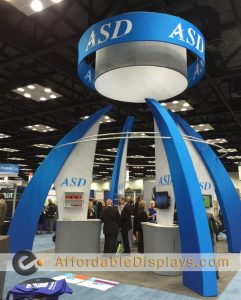 Tension fabric display options are an excellent solution for a pop up lounge or discussion area. With the ever changing trade show trends, exhibitors are becoming more creative with their booth spaces, incorporating this trendy new option to stay relevant and be remembered. Tension fabric displays allow you to really show off your brand in new innovative ways.
By simply adding a retractable banner stand, counter or table cover, you're able to not only add depth to your trade show booth, but these add-on items could be set-up in your office or used at smaller events, such as a job fair or other community events, when trade show season is not in full effect.
Step-n-Repeat, Photobooth
Another trendy marketing piece for trade shows or events are step-n-repeat backdrops. Having easy to assemble and durable tension fabric backdrop will cut down your time and effort during set up. Your high-quality, glare free, graphics and logos will make a great backdrop for photos at your various events.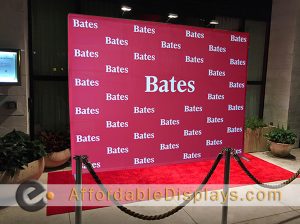 These logo backwalls are great because even if you aren't necessarily selling anything, you can still enforce your brand visually for any industry gathering or company party. Tension fabric step-n-repeat backwalls are the perfect solution even when the show is over – simply set-up in your office entrance for all visitors to enjoy. Tip: consider where you're setting up and also time of day. Night time events may require some light features, and you can always upgrade to a lightbox option.
Fundraisers, Local Events, Job Fairs
There are many advantages to a tension fabric display including portability which makes packaging your trade show display smaller, easier, lighter and may result in shipping cost savings and storage costs. Another advantage is the ability for your fabric graphic to be washed, dried, ironed, steamed, folded or rolled for storage.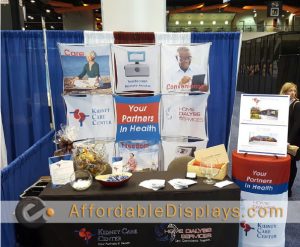 You'll also love that there is no glare on the fabric because of the smooth, non-glossy fabric finish which is perfect for an indoor trade show or high lit areas.
Sampling Bars, Product Shelving
Portable displays allow you to set up quick serving bars for food or beverages. Our Advertising Tent is perfect for indoor or outdoor use and made to be resilient to wear and tear with continuous use by the frequent exhibitor. All you have to do is focus on promoting your product, service or brand.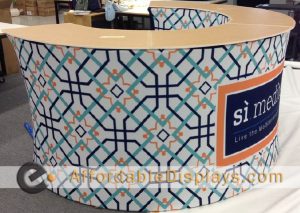 Sampling bars or counters add style and function to your trade show booth space by allowing you to drive your message, product or service right up front. Use any of our effective point-of-engagement presentation counters to give demonstrations, sign up attendees for notifications, emails or giveaways or even have attendees purchase your products right then and there. These trade show counters and podiums give your exhibiting booth space more opportunity to drive home your brand or land more sales.
Adding shelving to a trade show pop up display is most definitely a game changer when it comes to product display during an event. Having the ability to display your product and have it available for the consumer to have a hands-on experience could certainly seal the deal.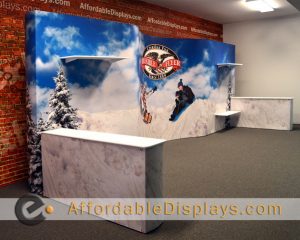 Portable event displays give you the freedom to set them up yourself without incurring labor fees. Even a large 20ft tension fabric display can be set-up by 2-3 people quickly and easily without tools. If you are interested in purchasing a portable trade show display for your next trade show or event, contact us here!
Don't forget to LIKE US on Facebook to see more of our portable displays and banner stand options!