Interested in purchasing a Tension Fabric Display today?  You are on the right track to a great choice.
Tension fabric displays offer the latest technology that allows for the ultimate in functionality, lightweight portability, modern style and simplified trade show set-up. 
These seamless tension fabric displays offer vibrant color graphics to make a huge impression. The most common sizes are 8ft and 10ft but range from a 5ft wide for a table top to a seamless 30ft wide floor display and beyond.  
The dye-sublimation printing output is durable and resistant to fading. These dye sublimation graphics are made with wrinkle-resistant fabrics, including poly-poplin and poly-knit stretch fabric to name a few.
With custom printing included, choose from one of our 4 popular tension fabric display styles.  
MODERN PILLOW-CASE STYLE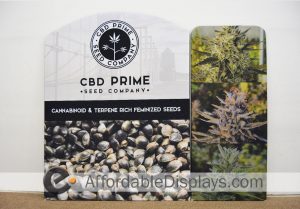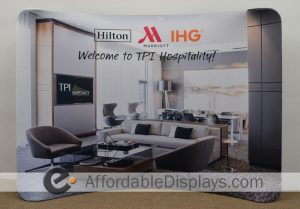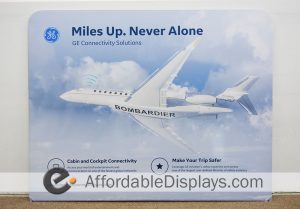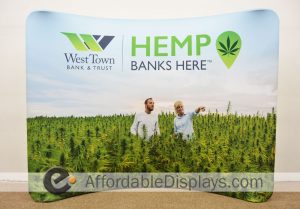 The modern pillow-case style offers a quick zipper closure which gives the ability to place the graphic on a straight or curved tubular frame like a "pillowcase", easily zipping at the bottom to insure a tight fit. Available in single sided or double sided printing. 
All WaveTube displays are printed in the USA and feature strong stitching with heavy-duty zippers that pillowcase snugly and securely to close your graphic up tightly around the tubular framing inside. All components are put together all with no tools required. You can also enjoy fast production time when ordering our WaveTube displays – so don't worry, facing tight deadlines or last minute requests is our specialty.
The NEW Klik Display System is also a tubular tension fabric trade show display option that perfectly combines the lightweight tubular framing with the option to display products in a trade show or conference environment. Using it's unique magnetic mounting bars, you can choose to add a variety of removable graphics at any time or product shelving options at any time. Your creativity is endless allowing you to mix and match different components to create your very own custom booth space without the custom price tag.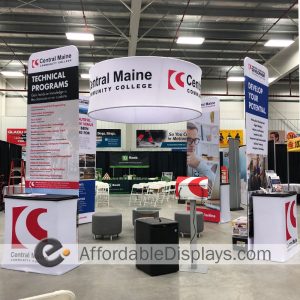 Maybe you want to grab the attention of attendees from across the trade show floor? With a hanging tension fabric sign suspended above your trade show display you'll do just that and be seen high above it all.
CLASSIC POP UP STYLE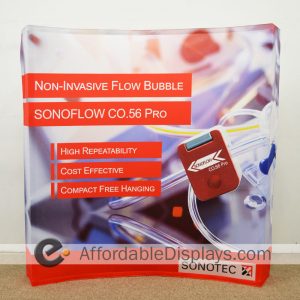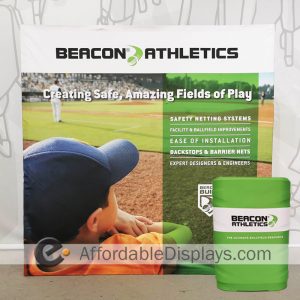 The classic pop-up style literally "pops up" in an instant utilizing a lightweight aluminum pop up frame. Set-up is complete once you engage the locking bars, attach your tension fabric graphic to the frame with velcro. And after the show is done, conveniently leave your graphic on during transport and storage. There's no need to worry about wrinkles in next time you use it either. You'll be amazed when you place your display on the floor and extend the frame that your graphic will pull taut at full extension to remove any wrinkles. 
Tension fabric pop up displays instantly make your company or brand the star of the show.  Choose from a straight frame or curved frames in both the 8ft wide and 10ft wide pop up display models. Check out our NEW LOWER PRICES on our Star™ tension fabric display kits!!
3D GEOMETRIC STYLE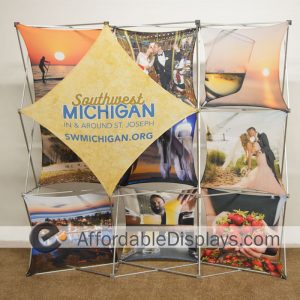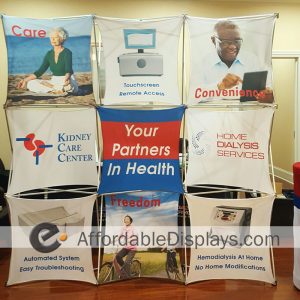 The 3D geometric style pop up display taps into your creative side with individual graphic panels allowing you to update your message quickly and easily. Our 3D Snap pop up display provides a versatile display that can be used for many applications in many venues: tradeshows, corporate events, media presentations, retail spaces, hotel lobbies, sporting events, fundraisers, and so much more.
Each display offers the ability to customize each shape any way you'd like with full color photos, logos or any graphic. Quick production time and delivery direct to any location make this the ultimate in customization for your trade show exhibit.
push-fit graphic STYLE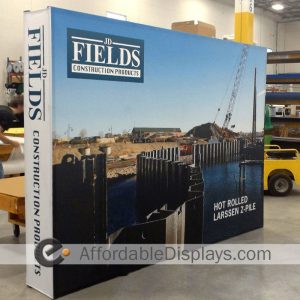 And last but certainly not least, the push-fit graphic style or silicone edge graphic; "SEG" for short. This is the latest technology in tension fabric displays featuring silicone edge beading attached to the edges of the printed fabric graphic, enabling you to easily push the graphic into a channel for a seamless edge display. Application of graphics is as easy as pushing the SEG beaded edge into each corner and perimeter of the frame. The tight fitting of your graphics allows your message to be seen, not the wrinkles! And removal is as simple as pulling the tab located on the graphic and gently pull it from the frame and fold up for storage.
The new Embrace™ tension fabric displays combine the convenience of a pop up display with a streamlined look and innovation of a push-fit silicone edge fabric graphic. By combining a lightweight collapsible frame and a "push-fit" fabric graphic, this ensures a seamless and taut appearance to your graphic every time you display your message. No more wrinkles around the edges of your graphic due to stitching or velcro! Featuring a no tool setup, you'll be amazed at the simplicity of this display every time.
———————————————————-
Feel free to chat with one of our Image Consultants or start shopping now.  They are ready to help you choose the right tension fabric display for your needs and budget.